Retired New York Red Bulls legendary striker Bradley Wright-Phillips is enjoying the FIFA World Cup
Bradley Wright-Phillips retired from futbol on March 8, 2022. The legendary striker announced that he signed a one-day contract to retire as a New York Red Bull, following which he was appointed Special Assistant to the Sporting Director.
His new role has a multitude of responsibilities including working with the NY Red Bulls sporting department, working with players from the first team and Red Bulls II and serving as ambassador for the club.
Wright-Phillips joined WBGO's award-winning podcast SportsJam with Doug Doyle to talk about the FIFA World Cup, his family, the Red Bulls and his amazing career on the pitch.
Bradley's #99 is retired at Red Bull Arena, the first number in club history to get the honor.
He is a two-time MLS Golden Boot winner and currently holds the New York Red Bulls record for most goals scored. In 2018, he became the eleventh MLS player to score 100 goals.
"When fans have let me know I'm been in so of the best games they've seen or I'm their favorite player or I made them start watching futbol, those ones really humble me. When you're out there playing, you're really just doing what you love, you don't realize the effect it has on the casual fan. Those kind of things warm your heart."
He joined the New York Red Bulls halfway through the 2013 season, helping them to the Supporters' Shield, and in his first full season he equalled the league's record for most goals in a single campaign with 27.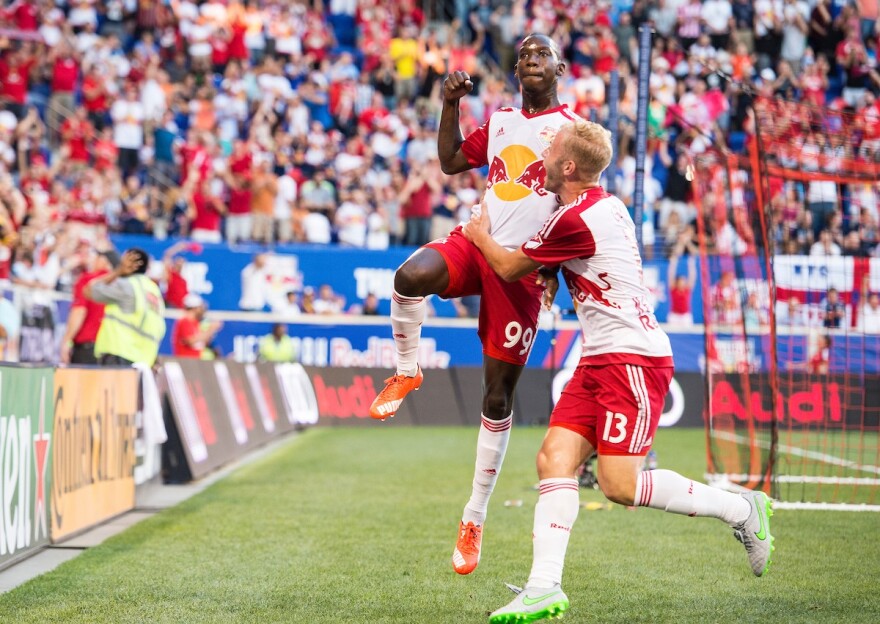 Wright-Phillips began his career with Manchester City in the Premier League, before spending the remainder of his time in England in second and third tiers with Southhampton, Plymouth Argyle, Charlton Athletic, and Brentford.
The son of former Arsenal and England player Ian Wright is hoping his native England can win the FIFA World Cup. Wright-Phillips, he grew up in Brockley, South London with his older brother and former Red Bulls player Shaun Wright-Phillips, says the tournament means so much to the players, coaches and fans.
"It's massive. If you go to England and you go to any pub you see they'll be full of futbol fans, especially on a game day. I think it's embedded from when were babies. Your grandparents, your great grandparents, your fathers, mothers, everybody supports the team. It's almost religion."
England opens its Round 16 play against Senegal on Sunday. Wright-Phillips says he's been surprised at some of the upsets so far and thought the England-USA match was rather boring, finishing in a scoreless draw.
"I think the happier of the two teams was USA. I think they played a good game, but I think England was disappointed on the day. I'm a fan of both teams. I got ties to both countries so I think it was a good result all around."
The striker says he respects that his famous father has always let him be his own person and performer.
"I'd say the most valuable conversation is probably try to not take its so serious. Also another valuable thing is hitting the target. This sounds so basic but I do a bit of coaching with the Red Bull 2 guys and I tell them that's the most valuable information I got, especially when you're thinking about scoring. You can put a lot of pressure on yourself. (Hitting the target) helped me throughout my career. When it comes to futbol, me and my dad. he's been gthere so he doesn't want to put too much pressure on me. We don't have too many deep conversations about futbol and I appreciate him for that."
Wright-Phillips says that pressure mounts on strikers during the World Cup and that's why you don't see a bunch of goals in the big tournament. He thinks England, Brazil, Argentina and France have the best chance of winning the 2022 FIFA World Cup in Qatar.
You can SEE the entire SportsJam interview with Bradley Wright-Phillips here.