Baseball's John Ellerbee Passes Away After a Thrilling Long Life
102-year old former baseball star John Ellerbee was one of the most dynamic guests on SportsJam with Doug Doyle and I never got to meet him in person.
Ellerbee, who was big part of the 1930's semi-pro black baseball team The Smart Set, passed away a few months after this 2013 interview took place. The Smart Set played their home games at Hinchliffe Stadium in Paterson.
Two legendary players were on the team with Ellerbee. John says Larry Doby played first base and Monte Irvin played shortstop for the Paterson squad. Ellerbee said he could play almost any position but spent most of his time at third base.
"I enjoyed playing baseball with Larry and Monte. We had fun. My batting average was always from .375 to .385. I had the highest batting average of any player around. My eyes were so great at that time, the baseball looked like a softball coming up and sometimes I wouldn't strike out the whole summer. I was that good with the bat."
Unlike Doby, Ellerbee never went to the Negro Leagues' Newark Eagles because he said his team was just as great in Paterson.
"The Major Leagues, why they passed me by, I was married and had one child. They were looking for young people that were in high school, so they can send them to the minors. In those days, you didn't think about going to the Majors because they wouldn't have you, they wouldn't take you."
Ellerbee was living in Cape Cod, Massachusetts at the time. John and his 80-year old daughter joined me by telephone for a very special edition of the podcast.
John Ellerbee was also a cousin of Dizzy Gillespie.
"My brother and I rented a house right by where he went to school. Well he wore that horn on his body all the time, I think he slept with that horn. He'd come run around and eat with my brother and I when I was working at the lumber mill. We'd cook up huge pots of salmon and rice."
Ellerbee says he wasn't surprised the Dizzy made it big.
"He was good then, oh he could blow that thing when he was young. He could toot that horn and my brother would ball him out. You can't sleep at night because they let him play music over there until ten o'clock."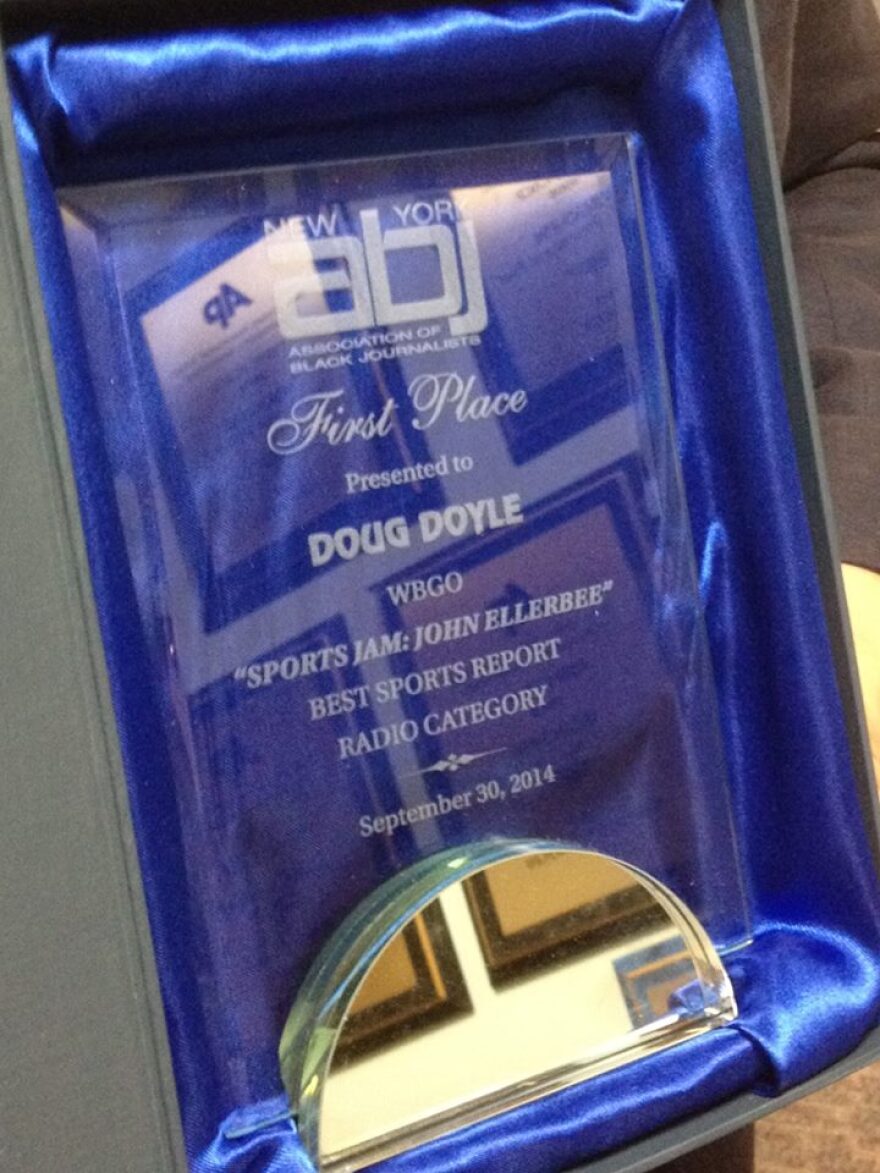 This edition of SportsJam with Doug Doyle won several awards including Best Interview at the Public Radio News Directors Inc. (PRNDI) awards dinner in Arlington, Virginia the following year.
The show also took first place for Radio's Best Sport Report in the New York Association of Black Journalists 2014 awards competition (see photo). John never got to hear the good news, he died several months before that ceremony.
Click above to hear the entire show that orginally aired on WBGO in 2013.