A Take Five Toast to the New NEA Jazz Masters: From McFerrin to Mitchell to Workman to Kirk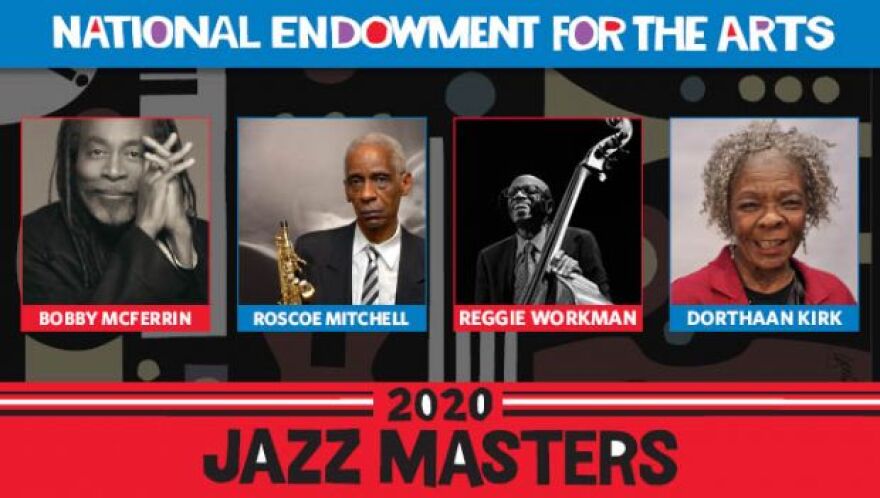 Originally set for early April at SFJAZZ, the 2020 NEA Jazz Masters gala and concert was derailed by the coronavirus pandemic. It was remade into an online experience, hosted by 2017 NEA Jazz Master Dee Dee Bridgewater. So it felt only appropriate to turn this week's Take Five into an NEA Jazz Masters sampler. Here's to the Class of 2020!
"Dorthaan's Walk," by Rahsaan Roland Kirk
Dorthaan Kirk is the recipient of this year's A.B. Spellman Fellowship for Jazz Advocacy, which couldn't be a more fitting honor. She has, of course, long been the heart and soul of WBGO, which she helped establish more than 40 years ago. But DK, as she's affectionately known, also carefully tends to the legacy of her late husband, multireedist Rahsaan Roland Kirk. He paid her the ultimate tribute with this song, "Dorthaan's Walk," one of his hippest and most hummable tunes.
Bobby McFerrin, "Freedom Jazz Dance"
The world knows Bobby McFerrin as a vocal juggernaut and a true polymath; it would be frankly impossible to capture what makes him special in a single selection. So let's just pick a terrific live performance from a turbocharged phase of his career: his solo a cappella translation of Eddie Harris' "Freedom Jazz Dance." This broadcast, from the 1984 Festival de Jazz d'Antibes in Juan-les-Pins, France, was released as an album in Europe just a few months ago.
Roscoe Mitchell, "Sound"
Saxophonist and composer Roscoe Mitchell, who turned 80 this month, remains an irrepressible engine of creative output; he has a brand-new orchestral release, Splatter, and has made several jaw-dropping albums just within the last few years. Still, it proved impossible not to reserve this space for an early landmark: his 1966 debut, Sound, a foundational document for the Association for the Advancement of Creative Musicians, and an auspicious prefiguration of The Art Ensemble of Chicago, whose mantle Mitchell still carries with pride.
Reggie Workman, "Conversation"
Surely the most widely recorded musician in this year's NEA Jazz Masters class, bassist Reggie Workman has anchored groups ranging from Art Blakey's Jazz Messengers to the collective Trio 3. His work with John Coltrane in the early 1960s would almost be enough to secure legendary stature, but for our purposes here, it feels right to call attention to Workman's own first album as a leader. Recorded in 1977, Conversation features stalwarts like trumpeter Cecil Bridgewater, tenor saxophonist George Adams and drummer Michael Carvin; listen for the way Workman steers the ensemble from free expression into a simmering groove.
Roscoe Mitchell Quartet, "In Walked Buckner"
Finally, with four new inductees and five available spots in this lineup, it felt fitting to locate a track where two or more masters were gathered. Here's a prime selection from 1998: the title cut from a quartet album by Mitchell, with Workman on bass. (The pianist is Jodie Christian, and the drummer is Tootie Heath.) The Buckner in question is of course baritone Thomas Buckner, a longtime Mitchell collaborator. On the song named in his honor, Mitchell defies expectation — playing tenor, for one thing, and relaxing into a 4/4 walking swing. The band, evenly split between Chicagoans and Philadelphians, sounds radiantly at home. (Be sure to pay close attention to the bass solo, which begins around 3:30.)