A Career-Spanning Andy González Playlist, Curated by Bobby Sanabria of Latin Jazz Cruise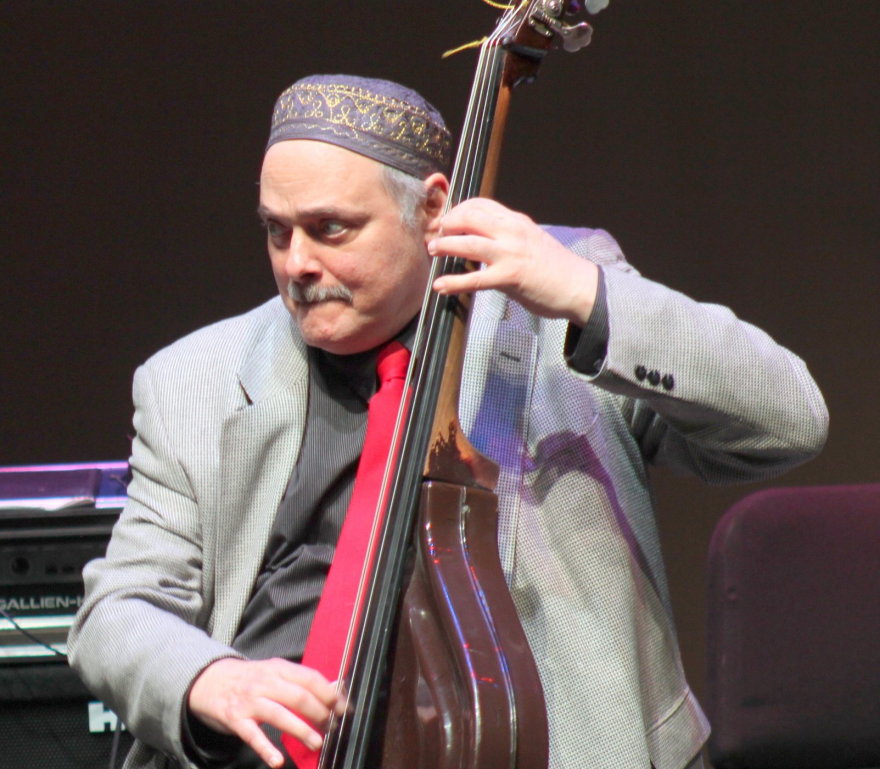 The Holy Trinity of Afro-Cuban bass consists of two Cubans, Israel "Cachao" López and Bobby Rodríguez, and one Nuyorican, Andy González.
Last week, González died at 69 in his home borough, The Bronx.
Below, I've selected 10 examples of his masterful playing, documenting his career and influence. You'll notice three things about Andy. First: utmost rhythmic precision. Second: supreme clave consciousness — clave of course being the five-attack rhythmic mantra of Cuban, Puerto Rican and Dominican music. And third: a harmonic sense that came from his knowledge of jazz, combined with a technical prowess that came from his early classical training.
Ray Barretto, "Power" (1970)
Andy González came to the public's attention playing for future NEA Jazz Master Ray Barretto's band, while he was still a student at Music & Art High School. Although it was a salsa group in the Cuban conjunto trumpet tradition, Barretto treated the group like a jazz combo, featuring all the players as soloists. Here Andy is featured on the conga master's composition "Power." It's Nuyorican straight up and down, Cuban son montuno with the improvisational spirit of jazz, blues, and the funk of the Bronx.
Eddie Palmieri, "17.1" (1970)
For Eddie Palmieri, it was an uncertain moment: the members of his acclaimed band La Perfecta had all decamped. "Luckily," recalls the pianist and NEA Jazz Master, "timbalero Nicky Marrero, who'd left Willie Colón's band, recommended Andy to me along with Tommy's son, Tómas 'Choki' Lopez on bongó and Eladio Pérez on congas. They were all teenage kids; Choki was 13! I used to call them my 'diablitos del ritmo,' little devils of rhythm, When I added all their ages up and averaged it out, it came out to the number 17.1." The track features legendary Cuban trumpeter Alfredo "Chocolate" Armenteros along with Nicky and Choki. Check out Andy's rhythmic counterpoint, which provides a solid foundation for Maestro Palmieri's innovative soloing.
Grupo Folklórico Y Experimental Nuevayorquino, "Anabacoa" (1975)
Born from the basement descargas (jam sessions) at Andy and his brother Jerry's boyhood home on Gildersleeve Avenue in the Bronx, Grupo Folklórico Y Experimental Nuevayorquino was the first of three groundbreaking groups that Andy would co-lead. Co-producer Andy Kaufman states: "It was amazing. All the tunes, save for one, were all first takes." After González lays down the law on the opening bass tumbao (repetitive riff), pianist Oscar Hernández, timbalero Manny Oquendo, trombonists José Rodríguez and Reinaldo Jorge, and vocalist Willie Garcia are featured on this classic Arsenio Rodriguez tune. It's a perfect example of Cuban music with a New York attitude.
Candido Camero and Andy González, Conga Jam (2004)
NEA Jazz Master Candido joins forces here with Andy on a composition that Candido based on the three notes he has his drums tuned to. His kinship with Andy is profound — and made even more so by the fact that at one time, the legendary conguero played bass himself.
Andy González and Bobby Rodríguez, Bass Day 1998
Along with Israel "Cachao" Lopez, Cuban American Roberto "Bobby" Rodríguez elevated the role of the bass with his seminal work in bands led by Machito, Tito Puente and Eddie Palmieri. Here he dialogues with someone he inspired and mentored, the third member of the Holy Trinity of Latin bass players.
Andy González, "The Addams Family"
Andy's sense of humor is showcased here on his mambo jazz version of the theme from the old TV comedy series, which was based on the Addams Family cartoons by Charles Addams. Here he dialogues with one of his bass protégés, Luques Curtis. It's from his 2016 Grammy-nominated CD, Entre Colegas.
Manny Oquendo's Libre and Cachao at The Village Gate, "Chanchullo (Part 1)"
The second group that Andy co-led was Manny Oquendo and Libre. This is from an appearance at the legendary Village Gate in Greenwich Village on Oct. 10, 1989, from the Monday night series known as Salsa Meets Jazz. The concept was to feature two bands from the world of Latin music, with a special guest soloist. This night it happened to be one of Andy's inspirations and mentors, Israel "Cachao" López. Both are featured on Cachao's own composition, "Chanchullo." (As if that weren't enough, the other band featured that night was the Tito Puente Orchestra.)
Manny Oquendo and Conjunto Libre, "Little Sunflower" (1991)
Tumbao, along with clave, is the foundational rhythmic propulsion in Afro-Cuban-based dance music (salsa). On the bass, Andy was its master. It's showcased here on this arrangement of Freddie Hubbard's "Little Sunflower," with brother Jerry on congas and trumpet. Fellow Bronxites Dave Valentin and Joe Mannozzi are featured respectively on flute and piano, with Steve Turre on trombone and conch shells — while Oquendo glues it all together on timbales.
Jerry González and The Fort Apache Band, "Earth Dance"
The third group Andy co-led was The Fort Apache band, with his brother Jerry. Here they are in their prime as they were featured in Fernando Trueba's film Calle 54. The segment opens with Andy walking to the home where he and Jerry grew up, 1963 Gildersleeve Avenue in the Bronx. It was here that Grupo Folklórico Y Experimental Nuevayorquino began, eventually leading to the birth of Manny Oquendo & Libre, and finally the Fort Apache band. Andy and Jerry's rhythmic anchoring of the group, along with Steve Berrios' command of the drum set, demonstrates the effortless mastery they had between the worlds of Afro-Cuban and jazz rhythm, redefining small-group Latin jazz.
Candido, "Mayeya"
One of Andy's last recordings as a sideman, "Mayeya" opens up with an incantation for Elegua, avatar of aché (positive energy), guardian of the crossroads and the first orisha (diety) that must be praised in any bembé (Yoruba ceremony). The song is about a mischievous young girl named Mayeya who is warned by her grandmother not to mess with the power of the orishas, or else she will suffer the consequences of Olofi, God on Earth. Andy, Candido, and yours truly drive the rhythm in a modern Cuban songo, rumba context. The great David Oquendo from Cuba is on guitar and vocals.