Trumpeter, Producer and Jazz Forum Arts Executive Director Mark Morganelli
Trumpeter, Flugelhornist and Jazz Producer Mark Morganelli has been a long-distance runner since his high school days in New York and Bucknell University. The Executive Director of Jazz Forum Arts in Tarrytown, New York, is a return guest on SportsJam with Doug Doyle.
Morganelli talks about how the coronavirus pandemic has impacted his touring schedule, his club and his daily running routine. He stresses the physicality needed to play his instruments has been greatly enhanced by his running routine.
"The running definitely helps my air flow, especially on ballads and holding notes. It's been beneficial that way and psychically running is great. I often think of tunes and arrangements while I'm running. I try to come back and jot things down. It's good on a variety of levels."
Morganelli has completed three NYC Marathons (2005, 2007, 2010) and competed in two Boston Marathons (1973 and 1974), all with extremely respectable times. The fitness junky still puts in major miles.
"I logged in a thousand miles last year during the pandemic, so that's basically 20 miles a week. Every now and then when it's a beautiful day I'll go nine or ten miles. I would like to do another half-marathon. I had this thought that maybe I should try New York again at 65, but I'm not anywhere near that kind of shape, but I know I could make a half."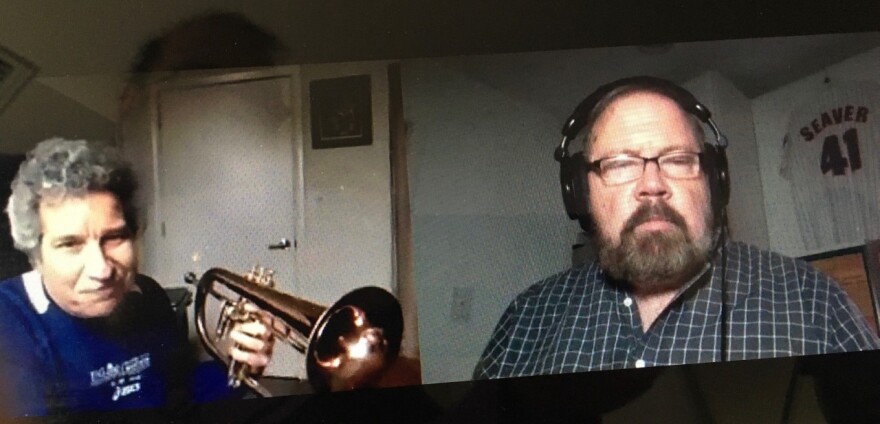 When asked who would be three people he'd like to run with, Morganelli didn't hesitate. He replied, former President Bill Clinton, legendary runner, broadcaster and jazz guitarist Marty Liquori and Olympic Silver Medalist and marathon champion Meb Keflezighi. Liquori and Keflezighi have both been guests on SportsJam with Doug Doyle.
Morganelli also met marathon legend Bill Rodgers before a Middletown 10K run. It turned out to be a very special memory. Rodgers personally signed his "Marathoning" book to Mark before the race.
Mark and his wife, Ellen Prior opened their highly acclaimed Jazz Forum club in Tarrytown, New York in June of 2017.
When COVID-19 hit, it greatly impacted his tour and club schedule.
"When the pandemic struck, we were supposed to be going to Italy. Of all places, I was supposed to play in March of last year in Bergamo, Brescia and Milan, which was the epicenter of the COVID outbreak in the world at that point. There were 200 confirmed cases and no deaths at that point. So we cancelled our trip, naturally. The good news is we've rescheduled it for next March, so it will be almost two years. We've had to shut our Jazz Forum club. March 8th was our last presentation here, so we've been closed a year and three weeks now. Thankfully, we're planning to reopen Memorial Day weekend this year. Similarly, last summer's outdoor concerts for the potential threat of infection and transmission of the virus."
Morganelli has produced more than 60 compact discs, most for Candid Records, 20 of which were recorded "Live" at NYC's Birdland club, where he was the music coordinator for five years. Nearly 30 years ago, Morganelli and his family moved to Westchester, and shortly after, he inaugurated the Jazz at the Music Hall series in Tarrytown.
As a trumpeter and flugelhornist, Morganelli performed at the 1976 Montreux Jazz Festival, the 1992 & 1994 Syracuse jazz Festivals, the Du Maurier Downtown Toronto Jazz Festival, JVC/NY and Saratoga Jazz Festivals, the White Plains Jazz Fest, several tours of Italy (including 2018 and 2020), many concerts and festivals in Europe, Japan, Brazil and the Caribbean and hosted nightly jam session aboard the QE2 to the Newport Jazz Festival from 1996-1999. He continues to perform with his Jazz Forum All-Stars around the region and released his fifth CD as a leader, Brasil!
"There's nothing like "live". We are so excited to get back to that!"
You can see the zoom chat with Mark Morganelli at https://fb.watch/4Fw4ZpuYup/.