Remembering Eulis Cathey, A Trusted Voice at WBGO and SiriusXM, Who Has Died at 67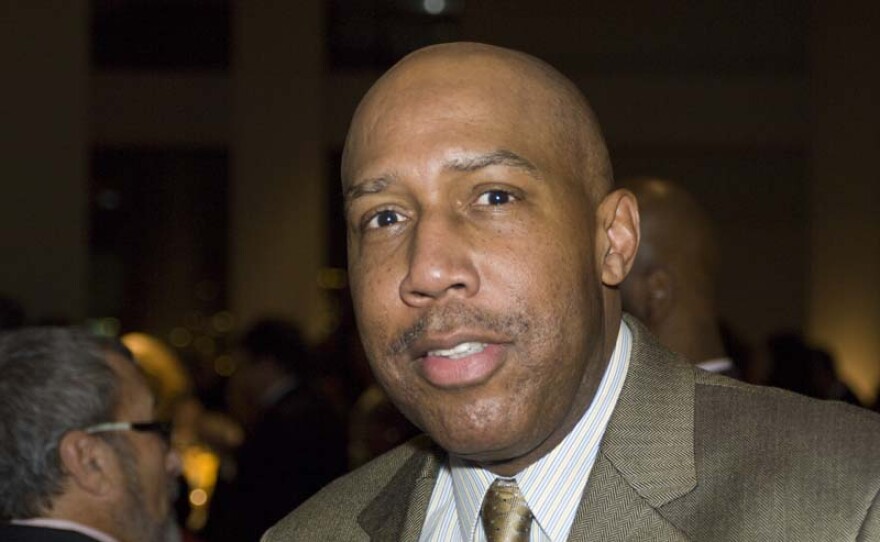 1
of
5
— Eulis Cathey at the WBGO Champions of Jazz Gala
Eulis Cathey at the WBGO Champions of Jazz Benefit concert in 2009.
WBGO
2
of
5
— Eulis Cathey and James Moody
Eulis Cathey with James Moody at WBGO in 2009.
WBGO
3
of
5
— Eulis Cathey with Tootie Heath
Eulis Cathey with Tootie Heath at WBGO in 2013.
WBGO
4
of
5
— Eulis Cathey with Don Braden
Cathy Braden
5
of
5
— Eulis Cathey with Ben Williams
Eulis Cathey and bassist Ben Williams at a 2016 WBGO Yamaha Salon with Billy Childs
Rob Davidson
As I reflect on my 50-year friendship with Eulis Cathey, who died on April 27 at his home in Buffalo, NY, what comes to mind is his consistency, his steadiness. He was a private man who lived a public life. An on-air-personality and a veteran record industry professional, whether behind microphone or behind the scenes as an A&R rep, Eulis was humble, unassuming and always in service to the music. It was never about himself but about the people who he engaged to make their lives better.
His advocacy was not limited to jazz. Though he was four years my senior, we graduated from the same high school, so it was no surprise when, after returning to Buffalo, Eulis called me and other Black alumni asking us to speak to the minority student body about our experiences there. A fellow Gemini, Eulis valued friendship and looked forward to our annual birthday celebrations, which became a tradition after our first gathering in 1993. He was a loyal friend — supportive and good about bringing people together, personally and professionally.
Calm, cool and collected, Eulis was a quiet man with a keen sense of humor, well-liked and always ready to lend an ear. When engaged in conversations that interested him, he could become animated — but if things got heated, he'd politely step away. Always ready with his pleasant smile, he possessed an even temperament and was not easily rattled.
His wealth of experience with artists such as Joe Henderson, Regina Carter and Gary Bartz gave him an insight and passion that frequently emerged in his work. Not only was he a friend and mentor, he was also a colleague. At WBGO, Eulis hosted the Sunday Night Music Mix that I now host as his successor. I learned early on that he had a loyal following, and that I had some large shoes to fill.
Above all, Eulis had a commitment to jazz that ran deep. "It's something that always affected me on an emotional and artistic level that I think is hard to find in any other artform," he said in a 2011 interview with Bret Primack at the Jazz Education Network Conference. "It's historical, it's educational, it essentially really tracks the history of this country. And so, for that and a number of other reasons, it's been an integral part of my life. I couldn't actually imagine not having it as part of my life. And so it's important to me on so many different levels, and that's why I enjoy presenting it to people."
Eulis left his mark on the jazz community, on his family and friends. His body of work speaks for itself. As a keeper of the flame the world is a bit dimmer without his presence. Rest in power, my friend.
Celebration of life:
Saturday, May 8
Viewing from 11 a.m. to noon, Memorial service at noon
Alan Core Funeral Home
1933 Kensington Ave
Buffalo, NY 14215