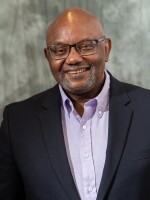 David Antoine
Chief Technology Officer
A broadcast veteran with a career devoted to the New York radio market, David Antoine's profession in broadcast technology spans some 40 years with market leaders such as: WBLS-FM / WLIB-AM, WOR-AM, WQHT-FM, WRKS-FM, WNCN-FM, WQXR-FM / WQEW-AM and WBGO-FM. After a seven (7) year hiatus, David has returned to WBGO as our Chief Technology Officer.
Born and raised in Brooklyn, New York, David began his career in 1969 as an audio sound engineer with the EAST Cultural Center in the heart of Bedford-Stuyvesant. While at the EAST, David began working with the legendary mobile DJ Q.J. Spinning dance music in ballrooms and dance halls, under Q.J.'s mentorship, David learned the disciplines that would sustain him on his road to a career in Broadcast and Audio Engineering. He was privileged to have toured with top name musicians and musical groups such as Noel Pointer, The Trammps, Brass Construction and Starpoint.
Prior to re-joining WBGO, David most recently held the position of Radio Broadcast Engineer for the German Console manufacturer LAWO, Inc. He also served as the Director Broadcast IT for Westwood One's Network Distribution & Technical Operations Center. Previous to Westwood, David had a five (5) year stint at WBGO as the Chief Engineer.
After taking classes at the famed ATS Broadcast Training center in New York City, David earned his First-Class FCC license. A member of the Society of Broadcast Engineers (SBE), he holds SBE certifications CBRE and CBNT, in addition to Audinate Dante I, II & III.