'Walk With the Wind' Series Swings Back Into Gear, with Performances in Central Park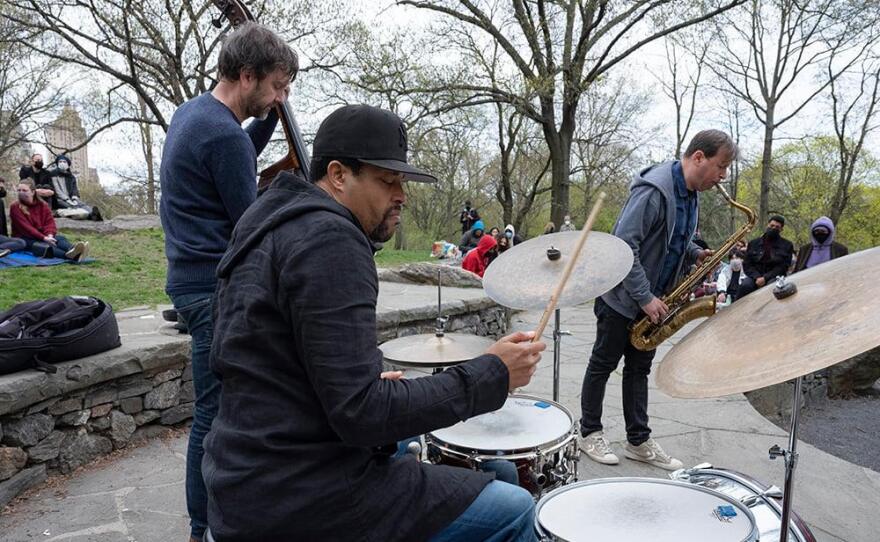 1
of
2
— Chris Potter Trio in Central Park
The Chris Potter Trio, with Joe Martin and Nasheet Waits, on Summit Rock in Central Park on April 17, 2021.
JIMMY KATZ
2
of
2
— Walk with the Wind
Wayne Escoffery, Dezron Douglas, Johnathan Blake and Jeremy Pelt performing in Central Park on the Walk with the Wind series, April 4, 2021.
JIMMY KATZ
Last fall, as the coronavirus pandemic reached its six-month milestone in New York City, a glimmer of hope arrived in the form of an outdoor concert series called Walk With the Wind. Created by the nonprofit Giant Step Arts in tribute to the legacy of congressman and civil rights hero John Lewis, the series brought some of the leading jazz artists to Central Park, where their audience included passersby as well as devoted fans.
The series was a brainchild of Jimmy and Dena Katz, the founders of Giant Step Arts, which had previously been devoted to commissioning, recording and releasing new music from musicians now on the scene. Among the groups that performed on Walk With the Wind last fall were those led by saxophonists Chris Potter and Immanuel Wilkins; trumpeter Marquis Hill; and drummers Eric McPherson and Nasheet Waits.
"The concerts were a great comfort for these challenging times," Jimmy Katz tells WBGO, "so Nasheet Waits and I decided to continue the series this spring. We are partnering with another nonprofit, Keyed Up!, for these performances so we can include more younger musicians and have multiple bands each day."
Walk With the Wind's new season kicked off on April 4 with a band co-led by saxophonist Wayne Escoffery and trumpeter Jeremy Pelt. The series continues through early June at Summit Rock in Seneca Village, on the park's west side near 83rd Street. Admission is free, of course, with donations accepted for the bands. (Shows will be rescheduled in the case of inclement weather.)
Walk With the Wind Concert Schedule (updated April 19)
• Saturday, April 10 – William Parker Trio with Cooper Moore and Hamid Drake (at 1 p.m.)
• Saturday, April 17 – Chris Potter Trio with Joe Martin and Nasheet Waits
• Sunday, April 18 – Steve Slagle Trio
• Saturday, April 24 – Marquis Hill Quartet, with Joel Ross, Jeremiah Hunt and Marvin "Bugalu" Smith
• Sunday, April 25 – Michael Thomas Quartet with Michael Rodriguez, Edward Perez, and Johnathan Blake
• Saturday, May 1 – Aaron Burnett Quartet with Peter Evans, Nick Jozwiak, and Tyshawn Sorey
• Sunday, May 2 – Melissa Aldana Trio with Pablo Menares and Kush Abadey
• Saturday, May 8 – Marika Hughes: The New String Quartet with Hughes, Charlie Burnham, Marvin Sewell, and Rashaan Carter
• Sunday, May 9 – James Brandon Lewis' Freed Style Free Trio with Rashaan Carter and Chad Taylor
• Saturday, May 15 – Mark Turner Trio with Vicente Archer and Johnathan Blake
• Sunday, May 16 – Antonio Sanchez Trio with Donny McCaslin and Matt Brewer
• Saturday, May 22 – Johnathan Blake Quartet with Mark Turner, Chris Potter and Dezron Douglas
• Sunday, May 23 and Monday, May 24 – Nasheet Waits Quartet featuring Mark Turner, Steve Nelson and Rashaan Carter (live recording)
• Saturday, May 29 – Abraham Burton Trio with Dezron Douglas and Eric McPherson
• Sunday, May 30 – Antoine Roney Trio featuring Kojo Roney
• Monday, May 31 – Jason Palmer Quartet with Mark Turner, Edward Perez and Kendrick Scott
• Wednesday, June 2 through Friday, June 4: Mark Turner Quartet with Jason Palmer, Joe Martin & Jonathan Pinson (live recording)
• Sunday, June 6 through Tuesday, June 8: Darius Jones Trio with Dezron Douglas and Gerald Cleaver (live recording)