Violinist Regina Carter Searches For Roots, in an Excerpt of Mark Stryker's 'Jazz From Detroit'
Editor's Note: Jazz From Detroit, which publishes this July on the University of Michigan Press, is the result of many years of firsthand research by Mark Stryker, a former music critic and arts reporter for the Detroit Free Press. A substantial portion of the book consists of insightful artist profiles — covering everyone from composer-conductor Gerald Wilson to trumpeter-educator Donald Byrd to the esteemed Jones Brothers (Hank, Thad and Elvin). At the heart of the book is an assertion that pianist Kenn Cox once uttered in Stryker's presence: "Jazz wouldn't be the same without Detroit."
WBGO is proud to feature an exclusive full-chapter excerpt of Jazz From Detroit. "Regina Carter: Searching For Roots" appears in Part Five of the book, "Marcus Belgrave and His Children." (Among the other "children" in that section: pianist Geri Allen, saxophonist Kenny Garrett, and drummer-producer Karriem Riggins.)
_________________________________________________________
Most of the young jazz musicians from Detroit who came to prominence in the 1980s and '90s sprinted out of the blocks. Geri Allen, Robert Hurst, Kenny Garrett, Rodney Whitaker, James Carter, and Karriem Riggins all were precocious teenagers and making marks on the national scene by their mid-20s. Regina Carter? Not so much. Though she took up the violin at age four, Carter's destiny took a long time to reveal itself. She battled self- doubt and struggled to find her footing. It wasn't until she was about 30 that her career picked up momentum, and she didn't start headlining major jazz clubs and festivals until she was 35. She has since been widely acclaimed as the leading jazz violinist of her generation, and she reached a pinnacle in 2006 when she received a prestigious $500,000 MacArthur Fellowship.
Having so many different musical experiences, particularly in Detroit, really opened me up so when I got to New York, I didn't limit myself to one style of music.
Carter, who turned 56 in 2018, is a versatile and communicative musician of eclectic tastes with a large and diverse fan base. She's played everything from straight- ahead jazz to R & B, funk, avant-chamber music, and new arrangements of traditional African songs. She's also performed jazz-tinged classical concertos by David Schiff and Billy Childs with her hometown Detroit Symphony Orchestra. Regardless of idiom, Carter's playing boasts an exuberant, open- hearted spirit that can turn a cloudy day sunny in a few bars.
Her high profile is the most public sign of the slow-but-steady-wins-the-race arc of her career. But there's another, more personal story to her trajectory. More than most musicians, her musical journey has been a voyage of self- discovery. Her recording projects have favored autobiographical themes — her Detroit roots, classical music training, West African heritage, familial legacies in the American South, and midcentury popular songs adored by her mother. Ultimately, making music has been a way for Carter to better understand herself, her relationship to the world, and her connection to others.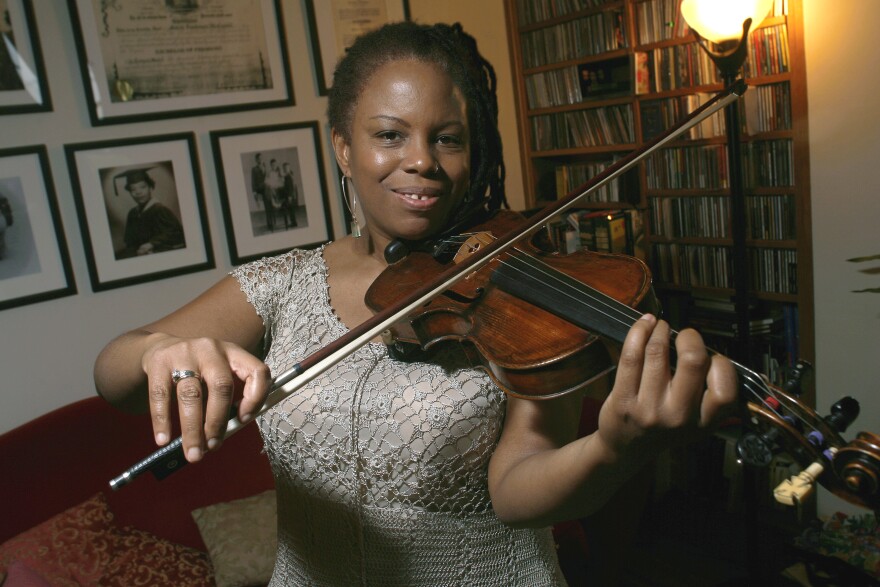 "I didn't consciously start out feeling that way," Carter said in 2017. "But now that I'm at this point in my life and looking back, yes. Having so many different musical experiences, particularly in Detroit, really opened me up so when I got to New York, I didn't limit myself to one style of music. I was curious about so much music. With each project and with maturing, I began to realize that I was finding out more and more about myself and my family. That made me even more curious to keep looking and digging even deeper."
At the same time, music has also led Carter outside of herself to a place of greater empathy and responsibility. In Detroit she used to play small gigs in the community with the late trumpeter Marcus Belgrave — nursing homes, hospitals, schools, and the like. Those performances planted a seed. Carter saw the impact that music had on people desperate to have their spirits lifted. She didn't think much about such things at the time, but as the years accumulated, Belgrave's implicit lessons about community service grew into an imperative.
When Carter's mother, Grace, was dying of cancer in 2005, Carter was heartbroken to see other patients alone in the hospital for lack of family. She also noticed how her mother's vital signs improved when recordings were played in the room. After her mother's death, Carter enrolled in an online course in music therapy through Western Michigan University. When it became clear that this wasn't quite the right path for her, she signed up for hospice training and later worked as a volunteer near her home in Maywood, New Jersey. Carter found the experience so fulfilling that she's begun examining ways to do professional work in the field, even if it means touring and performing less.
"There's something about being around people who know they are dying," she said. "The little stuff becomes really little. It just puts life in perspective. It's not only playing music for them. I love just being with them. I've been talking with people and reading books and trying to figure out how I can spend more time being there for people when they're in their last stages of life, to be a comfort hopefully. I've felt guilty sometimes, because I thought, 'Oh, you're just supposed to play.' But, no, everyone has many sides to them, many gifts. This will balance me out."
When Carter arrived on the national scene in the 1990s, she stepped into a vacuum whose existence was only obvious once she had filled it: There were no young violinists around at the time who knew their way around the swinging mainstream like Carter but also sounded at home in funk, fusion, or more exploratory idioms. The violin has had a now-you-see-it, now-you-don't history in jazz. Joe Venuti had a distinctive and visible voice in the 1920s. Two of Carter's idols, Stuff Smith and Stephane Grappelli, kept the instrument on the front lines through the swing era and beyond. Ray Nance played violin solos with Duke Ellington at midcentury. But the beboppers of the '40s and their progeny had little use for the violin. Save a rare exception like Michael White, the instrument disappeared from the jazz vanguard until the 1970s, when it reemerged as a fusion staple (Jean-Luc Ponty, Michael Urbaniak, Noel Pointer, Didier Lockwood) and free jazz (Leroy Jenkins and Billy Bang). John Blake — with whom Carter studied — played modal-driven post-bop with McCoy Tyner in the 1970s and '80s.
As Carter's career picked up steam in the 1990s, she attracted some high- profile champions, among them Wynton Marsalis, who featured her on the 1996-'97 national tour of Blood on the Fields, and pianist Kenny Barron, with whom she began a periodic partnership in the late '90s that continues to this day. "Regina's got an incredible ear," said Barron. "She's extremely creative and has a great imagination. She's open and can hear anything, so wherever I want to go, she's right there with me."
On Freefall (Verve), Carter and Barron's duet recordings from 2000, she plays with a mahogany tone, dark and sensuous, with little vibrato except an extra dollop on ballads. Her phrasing is direct, ardent. She doesn't weave in and out of the chords with elaborate bebop melody— that's not her strength. Instead, her solos unfurl in punchy riffs and declarative phrases. Trills, bluesy slides, gruffly articulated double stops, vocalized sighs and shouts add color and drama. On a swinger like "Squatty Roo," Carter's ebullient bounce evokes her love for Stuff Smith. On her ballad "Shades of Gray," she and Barron circle the fine-spun melody in a dance tempo, singing sweet embellishments to each other. Barron sets the mood on "Softly as in a Morning Sunrise" with a lively Afro- Cuban vamp and propulsive solo. Carter rides the wave, and the music soars.
Carter shares her home in Maywood, about an hour outside of New York, with her husband, drummer Alvester Garnett. The couple have no children. "We are the children," Carter said, laughing. She is a compact woman, five feet tall, with a face that lights up with a toothy grin. She wears two tiny nose rings, and in the past has sported locs, though she's currently rocking a close-cropped cut. In the throes of performing she tends to close her eyes and rock side to side on her heels. At her most involved, she furrows her brow into what her mother used to affectionately call her "ugly face."
Carter was born into a family of three children in Detroit on August 6, 1962. Her father, Dan Carter, worked on the assembly line at Ford. Her mother, Grace, was a kindergarten teacher. Carter grew up mostly in a two-story house on the west side. Her ear for music revealed itself at the age of two, when she walked over to the piano and plunked out her older brother's lessons. She started taking piano lessons herself, but instead of playing her prepared material she'd present her teacher with homemade drawings of large circles and say, "Here's my song I wrote." The Detroit Community Music School offered Suzuki violin lessons, and Grace signed up her daughter at age four.
The Suzuki method stresses playing by ear, repetition, and imitation. Those skills paid dividends when Carter started to play jazz, but her ear developed so acutely that she had difficulty learning to read music — a not uncommon bugaboo of Suzuki training.
Her introduction to jazz came at age 16 at Cass Tech. Classmate Carla Cook, a terrific singer who would later record for the MaxJazz label, gave Carter records by Jean-Luc Ponty and Noel Pointer. Carter then went to hear Stephane Grappelli in person. The French-born master was about 70 and appeared elderly, but the years fell away when he played. "The person that walked out and the person that played were two different people," Carter said. "He transformed into something else. It was amazing; it was magical. Like when you watch cartoons and the characters come out and change into their superhero thing. It just took hold of me, and I said, 'OK, you've been chosen.'"
What Carter found so enthralling about jazz was its surge of freedom. Her classical lessons were regimented: Stand this way. Hold the bow this way. Don't smile. But Grappelli broke these rules. He played with winking charm, twinkling eyes, and joie de vivre. Carter was captivated. She never cared much for school. By the time she was a sophomore, she was playing in the pop- funk group Brainstorm, and her mother said that her daughter used to skip Spanish class and hide out in the music room, playing the violin and telling anyone who would listen that she was going to get a record deal.
Carter's mother all but forced her daughter to go to college. She attended the New England Conservatory in Boston, and it was a disaster. She was uncomfortable in the orchestra, had a prickly relationship with her violin teacher, and recoiled at school politics. She transferred into the jazz department but felt lost without the step-by-step method books she was used to. "It was like everybody was keeping a secret from me," Carter said. "I did some studying with the pianist Fred Hersch in Boston, and that ended up being more like therapy than lessons," she said, laughing (again).
Carter's fundamental insecurity stemmed from her inability to process information like her peers. She plays almost entirely by ear. The music theory most musicians use as a blueprint for improvisation is as unintelligible to her as Latin. The paradox is that Carter's weakness is her strength. The conversational flow of her playing is partly a by- product of the inability to create the surface complexities of theory-obsessed players. A parade of teachers threw up their hands and told Carter not to worry and just keep doing what she was doing. But even today doubts linger. "I sometimes think, 'Are you ever going to let this go?' Carter said. "I learn differently, but instead of accepting that and going about it my way, I still try and force myself to learn like those people over there. I'm still trying to make peace with all of that."
Only after Carter transferred to Oakland University in suburban Detroit for her final two years of college did she begin making real progress. Marvin (Doc) Holladay, the veteran saxophonist who ran the OU jazz program, pushed her to listen to horn players and study how they phrased and when they breathed. She started learning Charlie Parker songs and solos. She also began working around town with leading local figures like organist Lyman Woodard, who awakened her passion for Afro- Cuban music, and Marcus Belgrave, who became her employer and mentor. "Regina always played great, and her spirit always made an impact on people," Belgrave said in 2014. "But she still lacked confidence."
After graduating in 1985, Carter moved — on a whim — to Germany for two years, settling in Munich. She wasn't playing much violin, but there were other life lessons: Work as an au pair convinced her that the only place you could start a music career and raise children at the same time was in fantasyland. She reentered the Detroit scene upon her return and came alive, joining the city's popular all-female band Straight Ahead. The group included flutist and vocalist Cynthia Dewberry, keyboardist Alina Moor (Eileen Orr), bassist Marion Hayden, and drummer Gayelynn McKinney.
Straight Ahead's populist mix of fusion, R & B, Latin, and jazz caught the attention of Atlantic Records. The label issued three CDs by the band between 1992 and '95, the first two with Carter, and the group had a nice if brief run of national touring. Meanwhile, she received a National Endowment for the Arts grant to study with John Blake for about 18 months, and she moved to New York in late 1991.
Carter worked with all kinds of bands, from a Cuban charanga orchestra to the String Trio of New York, a long- running progressive ensemble founded by bassist and metro Detroit native John Lindberg. The trio, which included James Emery on guitar, played jazz classics by Monk, Mingus, and others but sounded most vital addressing originals from within the group and by avant-garde composers Muhal Richard Abrams, Wadada Leo Smith, and Anthony Davis. Carter made five CDs in four years with the trio, and the experience challenged her to deal with extended violin techniques, graphic notation, and free improvisation. The brambly chamber music landscape and bracing violin solos heard on 1992's Octagon (Black Saint) will surprise anyone who only knows Carter's work in more conventional settings. "It really stretched my playing and thinking," she said.
Carter parlayed her rising profile with Straight Ahead into a solo contract with Atlantic in 1995. Her first two CDs were unapologetically commercial, aimed at the "smooth jazz" market. She reoriented to the acoustic mainstream with her leap to Verve in 1998. Her recordings were mostly high-concept affairs. Motor City Moments (2000) features a revolving cast and program anchored in Detroit's popular and jazz traditions. Paganini: After a Dream (2003) deploys Jorge Calandrelli's string orchestra arrangements of classical themes; Carter performs on Niccolo Paganini's 1743 Guarneri de Gesu, owned by the city of Genoa, Italy. She was the first jazz musician invited to play the instrument, and her tone has never sounded more luscious. Still, the CD's moody reverie grows sleepy.
More recently, the projects have had greater weight and bite. The African-themed Reverse Thread (E1) from 2010 relied on a folkloric ensemble including guitar, accordion, and the kora, a West African string instrument. Southern Comfort (Sony Classical) from 2014 collects music of the rural South and grew out of Carter's genealogical research. She discovered, for example, "Shoe-Rye" at the Library of Congress among field recordings from Alabama, the home of her paternal grandparents. The tune finds Carter in fiddling mode, blending evocatively with accordion and improvising with focus over roiling bass and drums. The music sounds at once contemporary and authentic to its source material.
As Carter made musical connections to her roots, she also began to fill the holes in her family tree. Her paternal grandfather died before she was born and all she knew was that he had been a coal miner in Alabama. She had never seen a photo of him. Whenever she asked aunts and uncles about him, they shut down the conversation by saying they didn't remember him. "When you get that kind of response more than a couple of times, you know there's definitely something more to it," Carter said. "I still had boxes from my mother's house that I hadn't unpacked. I opened one and right on top was a photograph of both my grandparents and all 14 of their children. That was huge. I finally started to get some information."
She discovered a dark family secret related to her grandfather — she declined to elaborate — but allowed that the information was cathartic. "It was an aha moment for me," she said. "It explained a lot about things I had experienced growing up. It helped me to understand and say, 'I don't have to carry this around anymore.'"
Carter's deep dive into her family and hospice work has led to musical and personal growth. She understands now that she's not competing with anyone but herself — in music or in life. A more nuanced range of emotion has settled into her music that you can hear on Accentuate the Positive (Okeh), an Ella Fitzgerald tribute released in 2017 that finds unexpected rewards amidst a postmodern parfait of soul, R & B, and rootsy grooves. Carter has also recently upped the ante on teaching, succeeding the late Geri Allen in 2018 as director of the New Jersey Performing Arts Center All-Female Residency, a camp for young women in jazz. At 56, Carter is in a different place than she was at 36.
"Every experience has some impact," she said. "I used to be concerned about wowing the crowd — you gotta play this fast lick or whatever. But now I just want to play something that's beautiful and that touches someone."
Recommended Recordings
String Trio of New York, Octagon (Black Saint)
Regina Carter, Freefall (Verve)
Regina Carter, Southern Comfort (Sony)
© 2019 by The University of Michigan Press.
Jazz From Detroit will be available in July; preorder here. Enter promo code UMSTRYKER at the U-M Press checkout page to receive a 40% discount.