Author, Historian and Sportswriter John D. Lukacs pens his mentor and close friend Beano Cook's memoir "Haven't They Suffered Enough: An Unbelievable Career in Sports, PR and Television"
John D. Lukacs (pronounced Lucas) is a sports writer, historian, filmmaker and author. His latest book is the memoir of his close friend and mentor Beano Cook. Cook died in 2012. Lukacs' book "Haven't They Suffered Enough?: An Unbelievable Career in Sports, PR and Television (White Valley Press).
Lukacs, a 1999 graduate of the University of Notre Dame, reached out to Cook when he was still attending Franklin Regional High School in Murrysville, PA.
"I was a senior in high school at Franklin Regional. It was one of those things, you know sitting around, trying to figure what I was going to do with my life, what kind of school and field do I want to get into and somewhere there was a seed germinating in my head, I wanted to get into sports writing or media in some shape or form. I always liked watching Beano on TV because he provided a different perspective than most of the announcers, the former players, things like that. He had a funny line every once in a while, he can up with a great stat or some historical tidbit. He would tie things into World War II somehow or even current events in some way, so I figured I'm going to write him a letter. They guy is from Pittsburgh. I did some research about him. I'm thinking maybe he'd help out a fellow Western Pennsylvanian neighbor. So I wrote him a letter and I was surprised a couple weeks later I got one back in the mail. He told me to call him on such and such a date."
Lukacs did just that. Even though it took several rings on the other end of the line, Beano did pick up the phone and a beautiful and personal mentorship began.
John D. Lukacs joined WBGO Studios podcast SportsJam with Doug Doyle to talk about the book and why Bean meant so much to him and sports television.
"It's strange because you look back on it. You know when Roone Arledge, the President of ABC Sports, later became President of ABC News, one of the most important figures in the history of television, the entire medium, when he hired Beano he was kind of hiring the world's biggest college football fan. He was letting this guy who would be sitting at the White Valley Club or some place like that talking about college football, he put him in front of the camera and let him do his thing before a national audience. I think that every person that has some type of job in this field today, especially someone who came up through a non-traditional way, nowadays there's blogs, there's podcasts, there's social media, there's many different kinds of ways to sort of get your message out. Beano was the very first person to do that. It was him, Howard Cosell, Jimmy The Greek and you can probably throw Phyllis George in there since she was a woman that didn't have any traditional journalism background or training, they didn't go to school for it. They weren't necessarily seen as TV material, but they broke those barriers. Beano was one of those individuals. I think it was his ability to come up with a funny line but also speaking his mind, that sort of enabled him to get to where he did."
Beano Cook was the athletics publicist at the University of Pittsburgh from 1956 to 1966. He worked as NCAA press director for ABC Sports from 1966-1974 and for CBS Sports from 1977-1982. Cook also worked as a sportswriter for the St. Petersburg Times, for the Miami Dolphins and the Mutual Broadcasting System, and spent one year with VISTA, Volunteers in Service to America. From 1982 to 1986 he was an ABC college football commentator. IN 1986, he joined ESPN.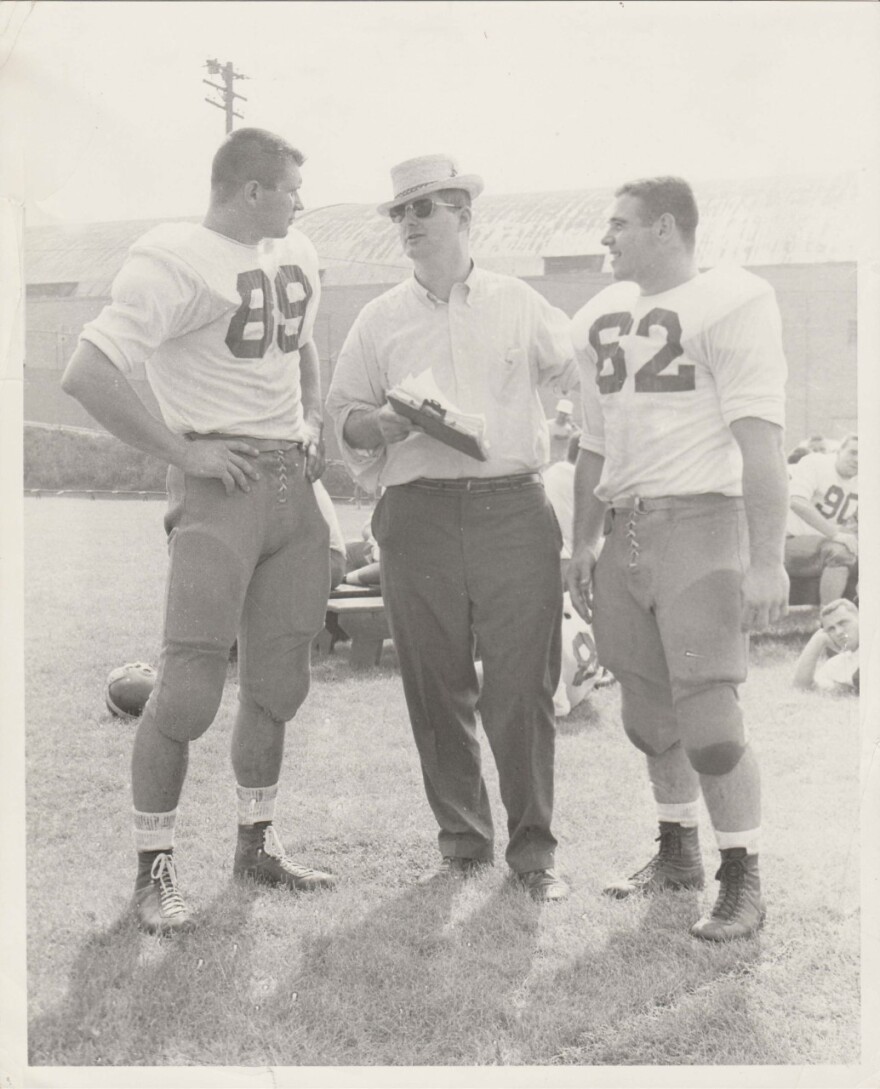 Lukacs says on long trips to Penn State he took with Beano they would share stories, and many times it wasn't about sports.
"He could talk about anything. I don't know anybody else that had that type of memory or just warehouse of knowledge. He could bring it out in a moment's notice. He made life fun.
Cook's mentor was the late Pittsburgh Pirates play-by-play announcer Bob "The Gunner" Prince.
"It wasn't until many years later when we were writing this book he told me he wanted to take Prince out to dinner one time and have some drinks, do something nice for him and Prince says no, I got to tell you something. One of these days, some young kid is going to find you like me. Take care of him. So that was Beano's way of paying it forward."
Before Cook died at the age of 81, Lukacs would visit him several times at the hospital. Cook referred to Lukacs as his "surrogate son".
Cook opened the doors for Lukacs to write for Blue and Gold Illustrated when John was just 19-year old student at Notre Dame. Lukacs' byline has appeared in the New York Times, USA Today, World War II Magazine and on ESPN.com. His first book is "Escape From Davao: The Forgotten Story of the Most Daring Prison Break of the Pacific War."
You can SEE the entire SportsJam interview with John D. Lukacs here.