Lenny White: Music across generations and genres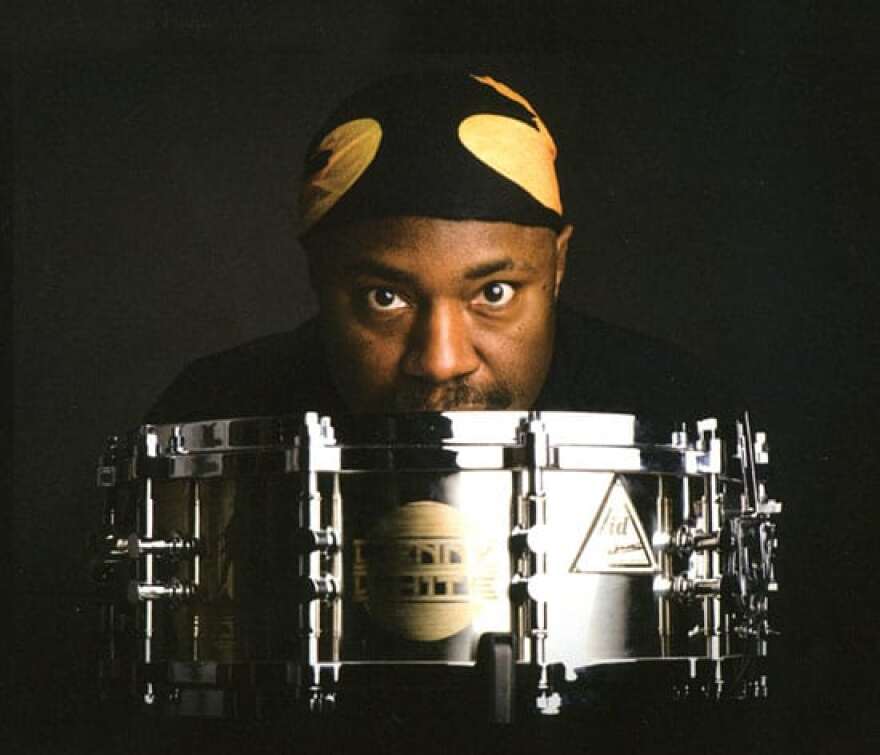 Lenny White has a gig this week that's truly close to home. The proud Queens native will be holding court at Dizzy's Club on Thursday, Friday and Saturday, November 16, 17 and 18, showing off the full range of his musical skills. The Thursday and Friday night shows are on the acoustic side and Friday he goes totally electric. We caught up with Lenny between classes at NYU where he's teaching music students, to talk about his upcoming performances. Listen in but you'll probably enjoy seeing and hearing him live even more!
Listen to our conversation, above.

Interview transcript:
Pat Prescott: How are you doing?
Lenny White: How are you, Pat? Long time.
Hey man, way too long, but I'm never too far from your music. Believe me, it's always been a part of my life and my world. And I'm happy to say it continues to be that.
Thank you so much.
We want to talk about a couple of things that I'd love to catch up with you and see what's been going on with you. I know that you are teaching now, right?
Oh, I've been teaching for a while. I'm actually teaching at NYU and at the New School.
Tell us about the classes that you're doing. What are you teaching?
Well, I have some private students at The New School and at NYU. I teach a lecture class on Miles Davis' Bitches Brew. I also teach another lecture class with another professor on something that's very interesting. We take music and analyze it which is really, really cool. So yeah, there's a couple of things.
Yeah, that is kind of cool.
It's kind of nice to get your ideas together and get them so you can translate them to other people. You find out a lot about yourself when you attempt to do that.
That's very true and it's also only fair that you do that. Look at the people who taught and nurtured you. You mentioned Bitches Brew. This was early on in your career with Miles and with Freddie Hubbard. All these other people that you worked with when you were just a kid. These people were teaching you and now you get to return the favor to this next generation of musicians.
Yeah, it's good. That other class that I talked about is called Performing Arts in Global Cultures. We have about 70 students in this class and we have an eclectic analysis of music and ethical training for musicians. It's a real diversified curricula and it's really, really great. I find a lot of instances that I've experienced over the years that we can present that to the students. The other professor is a clarinetist so we're working musicians and it really is a joy to be a part of a class like that.
I would imagine too, just as generations before you, you feed off of the energy of a younger generations coming on.
Yes, they've got outstanding new ideas of their own.
That blend of the two things, the experience and all the things that you've done coupled with the freshness that they're just entering into this arena. I'm sure it makes for a very interesting mix, doesn't it?
The greatest thing an artist or a student can have is an imagination and to be able to talk with them about channeling that is a great thing to do because it really nourishes new music and new musical directions.
Diversity has always been a hallmark of your career. You're going to get to have that on full display with a gig you've got coming up this week at Dizzy's Club. It's called The Musical World of Lenny White. Let's just talk about that a little bit. I know Thursday and Friday is going to be the acoustic side and Saturday is going to be the electric side. You get to really show all of what you got happening. You have some outstanding musicians performing with you. Tell us what to expect.
In thinking about it, I actually I was talking to Michael Rodriguez, a great trumpeter who's going to be playing with me on Thursday and Friday night. I'm saying to Mike, "Man, I don't know what to play because there's so many things that we could play. I got to find something that works." When you get an opportunity to play with all the people that I've played with for all these years, trying to find what to play has become an issue.
Thursday and Friday night, it's going to be Mike Rodriguez and Nicole Glover, a great saxophonist. Dave Kikoski, a great keyboard player. I also have a student that I want everybody to hear. Great bass player. His name is Ryoma Takenaga. On Saturday, I'm going to kind of switch over and play some of my electric music with the great Tom Guarna playing guitar. Richie Goods is going to play bass and Dave is going to play piano too. Then I have another new artist, a young female from Philly by the name of Kayla Childs who's going to join us. I hope everybody could come and have some fun.
I like the inclusivity of it. I like that you've got some women involved in it. There are so many great female players out here and they need to be seen and heard. I love that you're doing that.
Yeah, they make music too. The fact of the matter is they're great musicians. And if you want to have your music represented in the proper manner, you find the proper musicians to do that.
Sometimes the best man for the job is a woman and that's it. If that's the case, then there it is. But that makes it even better that it's an organic thing, even so much an intent. It's just that you're taking advantage of the pool of talent that's out there. And there's some talented people out there, male and female. Who's catching your ear right now that you're hearing that's relatively new on the scene?
That has always been a baited question for me. I listened to so many different kinds of things. Of course, the musicians that are going to be playing with me have caught my ear enough for me to play with them.
Including a student, which is great.
Fortunately for me, I've had a few students in the past couple of years that are out playing with musicians now that are making music and making a lot of noise. It's always nice to be able to take someone that you've been nurturing for a while and put them out there and have them be a part of the pool of musicians that are making a way for themselves.
It's really great to be able to do that. That's what's really a good thing for me is to be able to have a bunch of students who were students of mine for a while, and then we become friends. It doesn't matter that I'm a teacher and they are a student. There's no age difference when we're playing music.
Exactly. Music is a great equalizer. You've been all over the world with your music but being home, I think is always special and especially being close to Queens. I just want to know what was in the water in Queens. Long before you guys with Dizzy and Ella and all those folks. It continues with people like you and Marcus and Don Blackman and all of these guys, and now with Camille Thurman who I think is from Queens.
Yes. I just played with her in Detroit.
Awesome. I think part of it is the basements because everybody's house had a basement so there was a place to go and practice. Could that have had something to do with it?
I think part of what it was as young kids we had imagination and were able to listen to the people across genres. With Jamaica, Queens, there's a certain kind of vibe. People that come from Jamaica, Queens come from all different kinds of music. I didn't know this, but the great Gunther Schuller was from Jamaica Queens. There are so many different kinds of music that lives in Jamaica, Queens. We got influenced by everything. James Brown lived in Jamaica, Queens. Count Basie lived in Jamaica. Lena Horne lived in Jamaica. Run DMC. 50 Cent. LL Cool J. You know what I mean? Let's go. I think we were influenced by so many different kinds of musical genres. Also, the fact is we played wedding receptions and we had to play all different kinds of music and represent those kinds of music. We had to really play and study all different kinds of music.
When I look at, well, you know what you guys have done with it. Everything from Miles to the Jamaica boys and anything in between. Also, outside the boundaries of all those things as well as having had that kind of freedom in your career to really just express yourself in whatever way you want, has got to have meant a lot to you I would imagine.
That was so great to be able to first say, if you're going to represent this kind of music, you got to study it and truly represent it. Then because you took that opportunity to study like that, that's what you want to do. You want to flex. You want to be able to do that. Vince Wilburn and I did record for Miles' electric band called, That You Dare Not to Forget. On that record, we used bass players such as Stanley Clarke from Philly, Marcus Miller from Jamaica, Queens, Ron Carter from Detroit. Munch [Darryl Jones] from Chicago. The fact is that we know all of these people and we've made music with them throughout the years to call them together and make some brand-new music.
It's in the spirit of what we do, and we'll hopefully continue to do because our aesthetic is different than most. When we continue to represent all the different musical genres and all the different musical situations we've been in, we have the opportunity to do that. That's what continues to be special.
We expect to see all of that on full display at Dizzy's Club at 10 Columbus Circle. For reservations, just go to jazz. org. The show is Thursday and Friday, November 16th and 17th, The Acoustic Side with two shows at 7:30 and 9:30. Then on Saturday, the 18th, The Electric Side. It's all going to be quite electrifying as we listen to the man who's a left -handed drummer on a right- handed kit.
Come on now Pat, don't be exposing me like that, giving all my secrets out.
It's not a secret. It's one of the things we love and admire the most about Lenny White. There you have it. As always, it is really great to talk to you. Have great sets this weekend, and looking forward to seeing you down the road real soon.
Appreciate it, and thank you so much, Pat. I've known you a long time, and I want to continue to know you forever.
Hey, long as I'm here and you're here, we're together.