Joe McCarthy and Vince Norman adapt Tchaikovsky's Nutcracker Suite, Pan-American style
Tchaikovsky's 1892 ballet score The Nutcracker has been a staple of the holiday season for many years, such that "The Dance of the Sugar Plum Fairy" is seen as just another Christmas song. The Russian composer's work was famously adapted by the jazz dream team of Duke Ellington and Billy Strayhorn for an album in 1960, that has always been seen as a marker in their unique career as collaborators and arrangers.
Drummer and bandleader Joe McCarthy has been collaborating with saxophonist and arranger Vince Norman going back to their jointly named big band that released albums on Origin Records and coming through various iterations of the Afro Bop Alliance group originally formed in the DC area where both were members of military bands (Army vs. Navy). Inspired by the Latin jazz rhythms that both had explored, the two decided to take their turn at adapting Tchaikovsky's seminal work for a piece they dubbed The Pan American Nutcracker Suite. Using the New York Afro Bop Alliance Big Band (thankfully abbreviated to NYABABB, though that could use further abbreviation), they recorded the suite before and after the pandemic and released the album in September on Angelface Records.
Since it's the holiday season, no surprise then that the NYABABB is showcasing the work with performances at Dizzy's in NYC (Dec. 14) and Blues Alley in DC (Dec. 19). The big band features many first-call jazz players from the NYC scene, including: Nick Marchione, John Chudoba, Brandon Lee and Alex Norris (trumpets); Andrew Gould (lead alto saxophone); Alejandro Aviles (alto saxophone); Ben Kono and Luis Hernandez (tenor saxophones); Frank Basile (baritone saxophone); Mark Patterson, Ryan Keberle and John Yao (trombones); James Borowski (bass trombone); Luis Perdomo (piano); Vinny Valentino (guitar); Boris Kozlov (bass); Samuel Torres (percussion); and McCarthy (drums). Norman, the co-arranger with McCarthy on all of the music, conducted the recording session.
Recently, McCarthy and Norman spoke with WBGO's Bobby Sanabria about this unique project and their common connection with military bands.
Watch their conversation here:
Joe McCarthy and Vince Norman with Bobby Sanabria
Interview Transcript:
Bobby Sanabria: I want to ask you a little bit about your background. Both of you have interesting backgrounds in terms of music with the military. We thank you for your service and, in honor of that, I wore this t-shirt honoring the 65th Infantry in the Army. My father served proudly under General Patton on the Hell on Wheels Division of the Army. So I'm very proud of that. Joe, tell us about your background first—your training and getting involved in Afro Latin music.
Joe McCarthy: I'm originally from Connecticut and for my undergrad, I went to the Hartt School of Music. I was there during the era with Jackie McLean. It was a wonderful time. That's actually where I was really introduced to Afro Latin music. It was the guys that I went to school with that were really into it. We used to come see you play when you guys were playing at the Village Gate. I think you were playing with Mario Bauza's band in there.
We used to play at Salsa Meets Jazz on Monday nights. I'm very honored that you would even come to check us out at that point.
Joe McCarthy: After I went to Hartt, I got my master's degree at the University of North Texas. During the summers I would come and live in New York. I used to study with Johnny Almendra and Victor Rendon, who is a very close friend of mine. I was very heavily influenced by the Fort Apache band [Jerry Gonzalez's band], which was very instrumental in the starting of Afro Bop. After I left North Texas, I stayed in the Dallas area for a little while, teaching and playing various things. I played with the Dallas Symphony and did some classical things, but I was also doing the jazz thing.
When you were in the Dallas Symphony, were you the general percussionist or were you playing tympani?
Joe McCarthy: I was one of the subs. I went to the Aspen Music Festival for one of the summers when I was in college. Doug Howard, the principal percussionist in the Dallas Symphony who's retired now, used to have me come in and be a sub in the percussion section. I played whatever he asked me to play. But it was a wonderful experience, a super great orchestra.
I'm from the South Bronx and when I studied at the Berklee College of Music, it was a big culture shock moving to Boston. Was Texas at that time a big culture shock?
Joe McCarthy: It was. Vinny can talk about that because actually Vinny is from Oklahoma and he did the reverse role where he came to DC. After I left Texas, I won a position with the United States Naval Academy Band in Annapolis. I spent 20 years there. I played in the concert band, but towards the back end of my career, I was the leader and drummer of the big band. We had a great big band and we did some really cool stuff. When I came to DC, I wanted to get more involved in this Afro Latin jazz thing. Most of the Latin bands were playing salsa and dance. I wanted to play with a conga player and then I wanted to try and cover all the other percussion parts myself from the drum set. That's how the band started.
The band actually started out as sort of a Blakey configuration—three horns, a rhythm section and congas. We were lucky enough to get a residency at one of the Smithsonian museums. During that time their series included bringing in Afro-Cuban artists. Ray Vega, Michael Mossman, Arturo O'Farrill, Dave Samuels played with us. We started doing some gigs with Dave, and then that's when we came up with an idea to do the first big band album. We did two small group records, and then we took Dave's arrangements and re-arranged them for a big band. The first album we did was called Encarnacion. The second record was Camino Nuevo. I'm sure you know Felix Contreras, the writer with NPR. He's on those records playing congas. Then we made the record with Dave and Robert Quintero playing with our big band. That was the record [The Afro Bop Alliance Big Band with Dave Samuels] that ended up winning a Latin Grammy.
That was in 2008, right. A fantastic album. Everybody should have it in that collection. We've played it on WBGO many times in the past. Now we're continuing to play Joe's work in this fantastic Pan-American version of Tchaikovsky's Nutcracker Suite. Vince, you are also part of the tradition of military bands. You're a woodwinds player, I believe.
Vince Norman: Yes, primarily saxophone. I play some piano too. I took it up to write. My dad was a jazz musician. He had played Claude Thornhill's band back in the '50s. Ray, or as most musicians knew him, Red Norman. So I got into jazz music very early and started writing for big band at age 13. But I have to hand it to Joe. He's kind of the reason why I got into Latin jazz and really developed a love for it. I actually played tenor sax on that Latin Grammy award-winning CD that we did. Joe and I had done a couple standard big band albums featuring a lot of my material, prior to my involvement with Afro Bop Alliance. We called it the Vince Norman - Joe McCarthy Big Band. We put out a couple CDs, including Words Cannot Express and Bright Future, on the Origin label.
Writing the Latin stuff for big band was actually the follow up album that we did to the Latin Grammy award-winning one. It was called Una Mas. I did pretty much all of the arranging for that, of course with Joe's input as far as form and groove and what to do with the charts. It turned into a really great partnership.
Well, the secret weapon of any big band, anybody will tell you and in particular, yours truly, are the arrangers. They rarely get any kudos. So kudos to you for this fantastic project that you both collaborated on. Vince, do you actually play in the band?
Vince Norman: I played with Afro Bop whenever I was living on the East coast. I came back to Oklahoma because that's where my roots were. My mother was dying with Alzheimer's, so I wanted to be with her at the end of her life. I finished my degree and I got a job teaching school here. But I still do a lot of writing and my connection with them at this point right now is as a writer. I was playing alto sax with the small version of Afro Bop and played on pretty much all the recordings we did for maybe four or five recordings in a row. The last couple of projects that Afro Bop Alliance has done, I've been involved as an arranger.
Vince, you're from Oklahoma. Had you ever been exposed, other than say listening to Dizzy Gillespie's version of "Manteca" with Chano, to any Afro Latin rhythms?
Vince Norman: That's funny that you mentioned that because my college band wanted to play that original version of Dizzy's "Manteca" that I ended up transcribing for them. That was one of my first forays into that. I didn't really do much of that in Oklahoma. I played with the US Army Jazz Ambassadors, the Washington, DC-based jazz ensemble. I did a lot of writing for that band, including a lot of Latin stuff. But most of the Latin stuff I was doing at first was more Brazilian, a lot of sambas, a lot of Bossa Novas. I did take on this songo thing that Dave Weckl did called Festival De Ritmo and that was quite the project. That really got me exposed to the tumbao and the montuno. That whole thing of the montuno making chord changes right on the beat and the bass player anticipating everything. I fell in love with and that always makes me want to move. And there's just something tear-jerking for me, actually.
You guys collaborated on this project. First of all, how did you guys meet? Did you guys meet happenstance on a gig or just through your military connection?
Vince Norman: I remember very distinctly when we first met. There was this 12-trombone jazz group in Annapolis, Maryland. They had asked me to sub on a rehearsal playing piano. Joe just happened to be subbing on drums on that rehearsal and we hit it off. We were almost immediately talking about the possibility of future projects that day. We did our first big band project, I think, in 2005. That was probably about two or three years after we had met. So it didn't take long for us to hit the ground running.
Now Joe, you're a Navy man, right? And Vince, you're an Army person, right? There was no friction at all?
Vince Norman: Not at all. In DC there are so many military bands that if you were there for a length of time, you played with everybody in town. It was just like a big family. Guys that were amazing readers and great players. You need people that can come in and read the stuff and understand style. Most of those records we made, those guys were sight reading that music and no one ever believes us. Like that first record we did, Words Cannot Express by the big band, there was some stuff on that that was crazy hard. One of the tunes we recorded in the last few minutes of the session because we needed to get it in there because it was the middle movement of a suite. We did that one in one take. The big band version of "Back to Bayview." It turned out to be one of one of my favorite cuts on the record.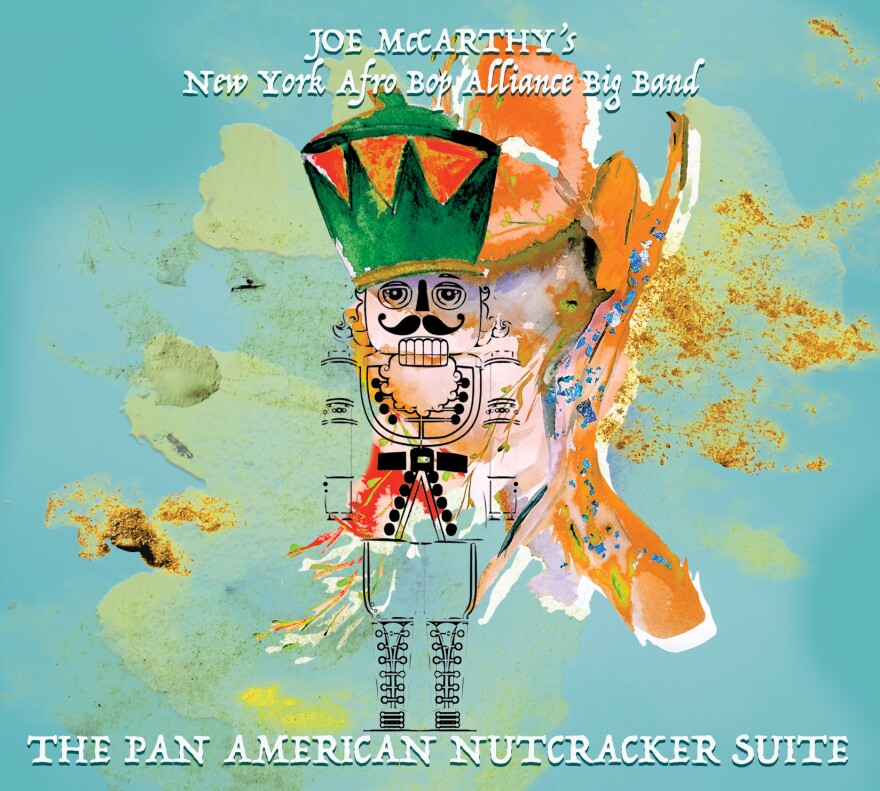 Let's talk about the Pan-American Nutcracker Suite. Had you played the piece before?
Joe McCarthy: Yes, because I'm classically trained, so for me, it was kind of an interesting thing. Vince and I actually probably looked at this much more directly from the orchestral score than from Duke's score. We tried to stay away from Duke's thing, because Duke's thing is what it is. It really doesn't need to be touched. Vinny and I both already knew it but there was a confirmation that Tchaikovsky's writing is absolutely timeless. We used so much in a lot of the orchestrations that Vince ended up doing. We were able to maintain so much of what he wrote because it's absolutely perfect. The one thing we did, which I know you will be able to relate to, is a lot of our inspiration for the arrangements came from when I first created the grooves. I would create the grooves and then I would send them to Vinny and then Vinny would hear it. Sometimes, depending on what each of us were thinking, because we've been writing together for so long and it moves so quickly that sometimes when you hear a version of a groove, that's not what you expected, like "Arabian Dance" being in a triplet vibe instead of being straight eighths. Then all of a sudden things start to change a little bit and that really helps to shape the arrangement in a completely different direction than maybe the other one of us might have imagined.
Vince Norman: I like how originally when we were doing this, we wanted to do a couple little Brazilian-ish things in there too. Initially we were going to do "Dance of the Reed Flutes" as a Bossa. Joe was like, "You know, we need to redo that one and speed it up a little bit." We did a little bit of that partito alto to it, and then decided to funk that up in a couple places. And it ended up being one of my favorite tracks on the CD.
It's one of mine as well. Besides using Brazilian rhythms and obviously Afro-Cuban rhythms, you use some Venezuelan rhythms too.
Vince Norman: One ended up being harmonically probably my favorite thing on there as far as just the way that melody lent itself to having in some places a different chord on every note of the melody. I really enjoyed writing that one.
Joe McCarthy: I think one of the reasons that I was really drawn to using more of a Venezuelan vibe on that groove was because when everyone thinks of the waltz, if we're going boom chick. All of a sudden, we're going chick boom boom. I think for people that have not experienced that music to hear that particular melody that is so familiar to everybody… I think it really worked out very well for us and it's really fun to play. We just played it last night and people just don't know what to expect.
The Pan American Nutcracker Suite
I'm so glad that you explored those other possibilities available to you in the music. How long did the project take from start to finish?
Joe McCarthy: It actually happened in two stages because we came up with the idea and we did three movements.
Vince Norman: Initially over the course of about a month and a half we did "Dance of the Sugar Plum Fairy," "Trepak," and "Waltz of the Flowers." Those sat for maybe a couple years before we got around to getting it commissioned for us to finish the rest of the project.
Joe McCarthy: What happened was one of the guys that I had gone to college with, Tim Ishii, is the director of Jazz Studies at the University of Texas in Arlington and he commissioned us to finish it and to play it with his college band. That was when it really went into high gear because it was right before the semester started and we had to have it ready for a November concert. We moved very quickly. It was dormant for a good portion of the pandemic and then all of a sudden we get this call and we gotta finish this thing. Then we went into high gear and we wrote very quickly.
Vince Norman: We did the other five movements in about two months. I have to say, I work a lot faster whenever I have somebody like Joe giving me ideas. Joe didn't just come up with the grooves, he came up with ideas for how to formulate the arrangements and even a lot of times like rhythms for entire sections, like brass punches in the "Trepak" thing when it goes into the kind of the 6/8 kind of feel. The groove Joe came up with for the "Overture." I had done something really basic and then he was like, "Hey, why don't you change it to this?" I had goosebumps when I listened to the computer and played it back with that groove. I was like, "Oh my God, this is just crazy cool."
Joe McCarthy: We use the Afro groove. I remember when I first heard Chano, Dizzy and those guys playing those rhythms.
How was that in the studio with Vince conducting this great group of musicians?
When you're conducting a group of musicians like that, you almost feel like you're not very necessary. I don't know what else to say other than it was awesome. I mean, I had goosebumps a lot. Like when the trumpet section played their initial warmup, during that first sound check, I thought, "This is going to be amazing." I knew it was going to be amazing when they only played like eight measures of music. Because it sounded like one guy, it was a unison section and it was right. It was just crazy.
This interview has been edited for clarity and brevity.