jazz station
Submitted by ssmith on Wed, 2008-06-25 09:05
It seems like every month we hear a story about a jazz station switching formats for various reasons. Be it a lapse in listenership, funding, and/or general interest. Traditional Jazz, in particular, has slowly fallen off of the airwaves nationwide. Some stations have turned to such formats as Rock, Top 40, and News and Information, leaving a jazz enthusiast in these markets with nothing but their mp3 players, cds and vinyl.
Now, like the good "company man" I am, I would say that one can hear an exceptional jazz playlist at WBGO.org. But for some, there is no reason why such an influential American art form isn't available on a radio station in every town and city. I agree 100%. Unfortunately, politics and business tend to supersede our love for quality music. I just find it ironic that jazz radio stations are being abandoned in the "real world", while a jazz radio station was recently added to a "virtual world".
Huh?! Virtual world!?
Yes! The controversial, yet commercially successful, Grand Theft Auto video game series added a jazz radio station with its latest installment Grand Theft Auto 4. Now, this is by no means an endorsement of the video game and its mature content, but the irony is killing me. No pun intended.
The GTA series is probably more popular in the media for its violence, than it is for its immersive & often sarcastic world. The video game series, in recent years, has included radio stations that you turn on when you enter a vehicle, and you can listen to them as you drive around the games virtual city. These radio stations come equip with host, playlist, imaging, and even commercials. In the past, the formats largely consisted of Rock, Soul, Hip Hop, R&B, Talk, and even Classical. The series has gained much notoriety for its authentic soundtracks.
What makes this inclusion so interesting to me (and maybe you too), is the fact that it is a "traditional" jazz station - hosted by none other than jazz icon Roy Haynes! The station is titled JNR 108.5: Jazz Nation Radio. Their tag line is "Jazz from a time before it became elevator music." The playlist consists of such jazz legends as Art Blakey, Miles Davis, Sonny Rollins, John Coltrane, and Count Basie. Other notable djs in the game include Roy Ayers- host of Fusion FM- a jazz fusion station, and DJ Premiere- host of the old school hip hop station The Classics.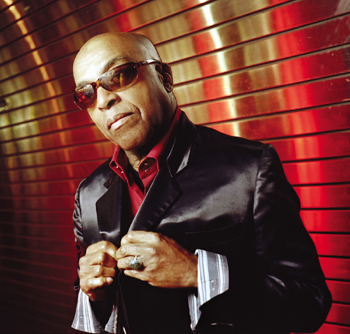 DJ : Roy Haynes
Genre : Jazz
Tracklist :* Count Basie - "April in Paris"
* John Coltrane - "Giant Steps"
* Chet Baker - "Let's Get Lost"
* Art Blakey and The Jazz Messengers - "Moanin'"
* Miles Davis - "Move"
* Charlie Parker - "Night and Day"
* Roy Haynes - "Snap Crackle"
* Sonny Rollins - "St. Thomas"
* Duke Ellington - "Take the 'A' Train"
* Dizzy Gillespie - "Whisper Not (Big Band)"
This isn't a ploy to exploit an art form because it's scaling the billboard charts. This is respect. This is a declaration to the importance and validity of straight ahead jazz. This is a nod from a "video game company" that grossed a record breaking 500 million dollars in its first week of sales. This is, though unconventional, an exposure of traditional jazz music to a broader demographic than you could find in the real world.
Now I know some may say, "...well you still have to tune in to hear it". Well I believe that, like the dynamics of the video game...it's all about the choice. Keep Jazz alive in your "real world"! Support...
Submitted by mbourne on Wed, 2008-01-02 14:52
"It's what I do ..."
I never know what to say when I get a compliment. I've always been amazed that people actually like me and like what I do -- and that I get paid to do what I do. I've sometimes felt that if I say "thank you" I feel as if I'm acknowledging that whatever nice thing someone is saying to me is true.
"I love your interviews!"
"It's what I do ..."
"You got so many pledges that last hour!"
"It's what I do ..."
I've been "doing" for 35 years on the radio, and it was only after 25 years that I felt that apparently I'm good at this, good at ... what I do.
New Year's Eve was my 21st coast-to-coast broadcast and my 23rd anniversary as a jock on WBGO. My first shift was filling for Rhonda in the afternoon, December 31, 1984. January 1st is the birthday of Milt Jackson, and so I played a day-before birthday tribute. Phone rang, and the voice said "This is Bags. Thanks." And in that moment I knew that I was a jazz jock in the jazz capitol of the world.
Even though we broadcast from Newark, and there's considerable Jersey pride at WBGO, I usually tell people elsewhere in the world that I'm from the jazz station in New York. We apparently, last I heard any numbers, have more listeners and more members in New York than in New Jersey -- although, really, I say New York mostly because I live in New York.
I only recently realized that I'm a commuter.
Back before the various large edifices that have gone up in Newark since I first came to the station -- law school, arts center, FBI, and now the Rock -- the walk on Raymond Blvd twixt train station and radio station was darker. I never felt especially in danger. I've always been quite grizzly, and I've seen folks on the street fear me. What was weird in the 80's was when folks in New York asked me if I carried a gun to protect myself in Newark.
Tempus fugit ...
23 years ...
I knocked the station off the air 20 minutes before I first came on the air. I was expected to record myself on a cassette. Remember them? Various plugs and wires were involved, and I somehow plugged the entire on-air signal into the cassette recorder. Nobody knew what was happening and the phones started ringing about the dead air. I didn't know what was happening, but I thought maybe I should un-plug the cassette recorder, and at once WBGO was resounding loudly again.
I'm still the clumsiest jock on WBGO. I'm not kidding when I get crabby about "too many buttons!" I've pushed the wrong buttons and played the wrong CDs countlessly. We didn't have CDs when I came to the station. We played music from a wall of LPs. Remember them? I remember when the first CD player came in. There was what looked like a spice rack in the studio with four CDs. One was "Glenn Miller in a Digital Mood" -- which I never played even once. I was afraid that if I endeavored to play a CD I'd blow the station off the air again.
I'm proud to say that since that first clumsiness, I have knocked the station off the air only one other time. Readings said our power was too high for the FCC max, so I pushed the button that lowers the power and the power lowered to zero. After a scramble of engineers like the code blue for a heart attack, we came back.
We now have an all-new computerized system for on-air spots, calendars, produced programs, and IDs. It's been working for almost a month now, and I've only screwed up a half dozen times. I once said to Josh Jackson, who's a whiz at working all this new tech and was so quickly and seeming effortlessly editing a special we were producing on a machine with a screen full of multi-colored squiggles, "I feel like a baboon looking at a rocket ship ..."
I'm much more technologically adept than I used to be. I'm helpless about the squiggles, but I sometimes can get through an entire shift without pushing a wrong button. Even a monkey can learn how to ride a bike.
I've actually never learned how to ride a bike -- but that's another story. Now comes ... blogging.
E-mail, I can do.
Googling, I can do.
Porn, any baboon can do.
I've owned a computer for two years, and by now I'm not as cyber-challenged as I first was.
I've actually been able to listen to baseball on my computer.
I've finally been able -- without help -- to buy stuff on my computer.
Now comes ... blogging.
I've been asked and encouraged to blather about ... whatever.
Baseball. Batman. Musicals. Traveling. Why I think of myself as Dutch. Why I've lately become obsessive about "Pride and Prejudice" and Jane Austen. And other things I love. And also ... love.
When I was initially asked to blog about what I think about, my immediate answer was "Who cares?" I'm blogging now only because my loved ones have insisted that listeners who like me might like to know ... what I do when I'm not doing what I do on WBGO. And also how I do what I do. I've been requested to explain how I program Singers Unlimited -- which will involve confessing a variety of eccentricities I've heretofore never talked about -- when the easiest answer is nonetheless
"It's what I do ..."
I'm Michael Bourne.