ron carter
Submitted by jjackson on Mon, 2012-07-16 11:22
Guitarist Jim Hall is the embodiment of what makes jazz special. First of all, there's something so absolutely honest about his music. If you need proof that Hall is the greatest living jazz guitarist, ask Pat Metheny. Or Bill Frisell. Or John Scofield. They will tell you that Jim Hall is their guy. I suspect musicians admire Jim for many of the reasons that we do.  Chiefly, Hall's asset is his ability to listen to the other band members. Just imagine all those Jim Hall duets with Bill Evans, Ron Carter, or any number of guitarists, not to mention his ensemble playing with Sonny Rollins... "Down From Antigua" is one of Jim Hall's trademark compositions. As many times as I've heard this tune, it still sounds fresh.
WBGO recorded the Jim Hall Trio at The Jazz Forum, February 5, 1983.
They are:
Jim Hall, guitar
Harvie Swartz - bass
Ben Riley - drums
Submitted by ssmith on Tue, 2008-02-12 14:35
What's going on all!
Welcome to my blog series "DIGGIN' THE CLASSICS"! When new releases in the music world get slow, we all tend to dig into our collections for some vintage pleasure. Join me for my weekly (or whenever I feel like it) quest for soundtrack satisfaction. This is a blog for music lovers! "Walk With Me".
This edition celebrates: A Tribe Called Quest- The Low End Theory (1991)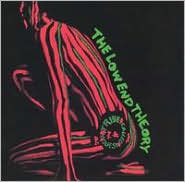 Tracklisting (Contains Explicit Lyrics):
Excursions
Buggin' Out
Rap Promoter
Butter
Verses From the Abstract
Show Business
Vibes and Stuff
The Infamous Date Rape
Check the Rhime
Everything is Fair
Jazz (We've Got)
Skypager
What?
Scenario
This is one of my all-time favorite hip-hop albums. Arguably the best album by Tribe, this project contained a very "jazzy sound" (East Coast hip-hop was James Brown sample crazy before this). This was a very different vibe from the G-Funk gangsta music made popular by Death Row Records at the time.
While I was going through the credits, I noticed that Ron Carter played the bass on track #5 "Verses from the Abstract". Being that I said this is one of my favorite hip hop albums of all time (and I know every lyric), I never noticed that Q-Tip shouts out Ron Carter at the end of the song...."Thanks a lot Ron Carter; on the bass is my man Ron Carter on the bass..". Hey, what can I say...I was caught up in the music.
As far as "jazz rap" goes, The Low End Theory was the bench mark. Though the album contained mostly samples of jazz music, it was the presentation of the package. From the "abstract/poetic" lyrics of Q-Tip, to the more direct delivery of Phife (in his prime I'd might add), this album is as smooth as butter. At the time of it's release, The Low End Theory was named a "5 mic" classic by The Source Magazine.
This release was also responsible for shining a light on the "not yet solo" talents of Busta Rhymes. The song goes down in history as one of hip hop's best "posse cuts."
This album is made classic by it's pure production excellence and it's varied subject matter.
Exhibit A, B, C,.....and so on:
ranked #154 in Rolling Stone's list of the 500 greatest albums of all time
ranked #32 in Spin Magazine's "90 Greatest Albums of the '90s"
One of the Top 100 Best Rap Albums of All Time (The Source)
One of the 100 Essential Albums of the 20th Century (Vibe magazine)
Here's the video for "We've Got the Jazz":
A classic example of how Jazz & Hip-Hop can co-exist.
Peace............
Vegas
Submitted by jjackson on Fri, 2007-12-28 15:18
Drummer Ed Thigpen has lived in Denmark since the early 70s, but we haven't forgotten him stateside. Especially given the recent death of Oscar Peterson. Thigpen recorded more than 50 records as a member of the Oscar Peterson Trio, but not very many as a leader.
In 1966, though, he made a record for Verve called OUT OF THE STORM. Not a lot of music here, and Thigpen doesn't solo much, but it's still worth checking out. At the time, Thigpen had recently left the Oscar Peterson trio. Trumpeter Clark Terry adds some mouthpiece-only solos for an nice effect. Thigpen plays tuned drums that sound like tympani at times. Kenny Burrell, Herbie Hancock, and Ron Carter round out the date. Give it a listen.
The last time I saw Ed Thigpen, he was teaching kids at a percussion clinic in New Orleans. As you can imagine, there were a symphony of drummers in attendance (which, in retrospect, is pretty easy for a rhythm town like NOLA). It was just around the time that he won a Humanitarian Award at the International Association for Jazz Education conference.
That seems fitting. He's a beautiful cat, and a tremendous educator. And for the record, he's a hell of a wire brush player.
Happy Birthday, Ed Thigpen.