gangsta music
Submitted by ssmith on Tue, 2008-02-12 14:35
What's going on all!
Welcome to my blog series "DIGGIN' THE CLASSICS"! When new releases in the music world get slow, we all tend to dig into our collections for some vintage pleasure. Join me for my weekly (or whenever I feel like it) quest for soundtrack satisfaction. This is a blog for music lovers! "Walk With Me".
This edition celebrates: A Tribe Called Quest- The Low End Theory (1991)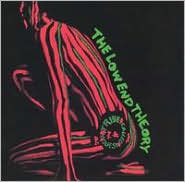 Tracklisting (Contains Explicit Lyrics):
Excursions
Buggin' Out
Rap Promoter
Butter
Verses From the Abstract
Show Business
Vibes and Stuff
The Infamous Date Rape
Check the Rhime
Everything is Fair
Jazz (We've Got)
Skypager
What?
Scenario
This is one of my all-time favorite hip-hop albums. Arguably the best album by Tribe, this project contained a very "jazzy sound" (East Coast hip-hop was James Brown sample crazy before this). This was a very different vibe from the G-Funk gangsta music made popular by Death Row Records at the time.
While I was going through the credits, I noticed that Ron Carter played the bass on track #5 "Verses from the Abstract". Being that I said this is one of my favorite hip hop albums of all time (and I know every lyric), I never noticed that Q-Tip shouts out Ron Carter at the end of the song...."Thanks a lot Ron Carter; on the bass is my man Ron Carter on the bass..". Hey, what can I say...I was caught up in the music.
As far as "jazz rap" goes, The Low End Theory was the bench mark. Though the album contained mostly samples of jazz music, it was the presentation of the package. From the "abstract/poetic" lyrics of Q-Tip, to the more direct delivery of Phife (in his prime I'd might add), this album is as smooth as butter. At the time of it's release, The Low End Theory was named a "5 mic" classic by The Source Magazine.
This release was also responsible for shining a light on the "not yet solo" talents of Busta Rhymes. The song goes down in history as one of hip hop's best "posse cuts."
This album is made classic by it's pure production excellence and it's varied subject matter.
Exhibit A, B, C,.....and so on:
ranked #154 in Rolling Stone's list of the 500 greatest albums of all time
ranked #32 in Spin Magazine's "90 Greatest Albums of the '90s"
One of the Top 100 Best Rap Albums of All Time (The Source)
One of the 100 Essential Albums of the 20th Century (Vibe magazine)
Here's the video for "We've Got the Jazz":
A classic example of how Jazz & Hip-Hop can co-exist.
Peace............
Vegas