Broadway, Film and TV Star Michael Cerveris hosts "Selected Shorts" at Kean Stage November 16
The Kean Stage 2019/20 season continues with NPR's hit radio show Selected Shorts with Broadway, film and television actors Michael Cerveris, Dana Ivey and Richard Masur at Enlow Recital Hall in Hillside, New Jersey on November 16 at 7:30 p.m.
New York's Symphony Space, which has presented Selected Shorts before a live audience since 1985, is bring the popular show to Enlow Recital Hall.
Selected Shorts was conceived with a simple premise: take great stories by well-known and emerging fiction writers and have them performed by prominent actors of stage, screen and television who can bring these short stories to life.
Two-time Tony Award winner Michael Cerveris will the host this Saturday's event at Enlow Recital Hall for a night of festive stories filled with love, laughter and nostalgia. Cerveris and WBGO News Director Doug Doyle sat down this week to chat about the actor's phenominal career and why he's excited about being involved in another Selected Shorts production.
"When you're focusing on just the auditory expression and not really imagining a lot of visual components to it, I feel like you're sort of talking really directly into the ear of the listener. Even when it's taken out of a recording studio and put on a stage, I still feel more that it's kind of like we're in a big bedtime story. As far as I'm concerned everyone could close their eyes and turn the lights down and I would just read like that. Maybe I'll suggest that sometime."
Cerveris, who has performed several times at Symphony Space, says it's also been particularly satisfying taking Selected Shorts on the road.
"It's a very personal kind of storytelling. I think the thing I like so much about it is that it distills everything down to the essence of the story. There's no visual tricks, there's no gimmickry. You really have only your voice and the text to kind of take your listeners someplace."
Cerveris says he's looking forward to reading stories with Dana Ivey and Richard Masur.
"I'm an admirer of both of their work over the years. Not every actor is well suited to this kind of thing. There's a certain combination of egolessness but also a very strong ability to inhabit a character just through your voice that's essential in doing this kind of work. I've seen people who are fantastic actors who just not all that good at reading stories because they try to do something with it or they can't kind of let go of needing the audience to respond to them. Sometimes they say it's the singer, not the song. In this case, it's the story, not the storyteller. Dana and Rich can both inhabit the roles that they play. They work from the story first and from the text first. And yet, they're also very beloved and appreciated actors for their body of work. People will see them and immediately remember all the things they've seen and loved them in. So, you have that immediate familiarity and connection with them which makes them reading you a story all that more appealing."
Playbill has called Cerveris "arguabily the most versatile leading man on Broadway." The Selected Shorts veteran won Tony Awards for his role as the father in the Broadway smash-hit Fun Home and for portraying John Wilkes Booth in Assassins. He also starred on Broadway in Evita, Sweeney Todd, Titanic and Tommy.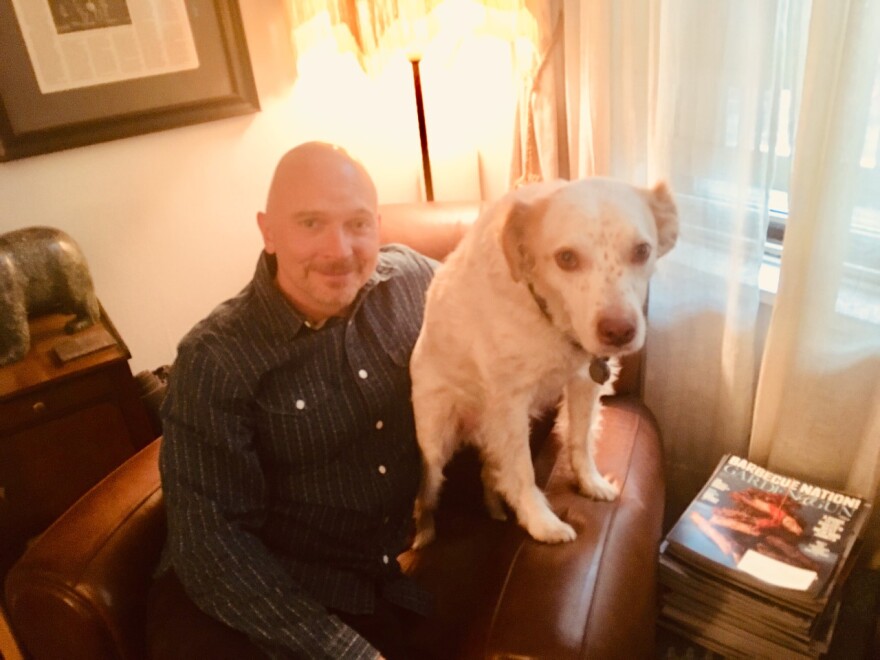 In the interview, Cerveris shares what it was like growing up in a musical family. His mother, a dancer, and his father, a music professor met at Juilliard in New York. He and his siblings, a brother and sister, ended up in the arts. His parents would read them stories.
"It's not surprising when you grow up with music, art, dance and theater so much a part of my upbringing. I loved being read to."
Born in Maryland and raised in Huntingdon, West Virginia, Cerveris says when he was little, he pretended to read a Dr. Seuss book out loud. He thinks that was probably his first acting role.
The Yale University graduate says playing the funeral director and english teacher Bruce Bechdel in Fun Home was a life-changing moment for him.
"I've had so many wonderful treasured experiences in so many different shows, I don't know if anything will ever compare the experience of Fun Home. I can't think of too many other shows that aspire much less achieve that combination of meaningfulness on so many levels. Just as a piece of theater entertainment it's incredibly successful, ingenious and nuanced, but also really entertaining, very funny and extraordinarily moving. It was also really successful which is another rare thing especially for something of substance in the commercial theater. It was also a chance for me to work with some of the most extraordinarilty creative people I've ever met."
What was the first show Michael Cerveris saw on Broadway? It was the original 1979 Broadway production of Sweeney Todd starring Len Cariou and Angela Lansbury. Cerveris would get a Tony nomination for his portrayal of the Demon Barber of Fleet Street in the Broadway revival of Sweeney Todd in 2005.
For more information about Saturday's Selected Shorts performance, you can go to www.keanstage.com.
Click above to hear the entire interview and find out more about Michael Cerveris' brilliant career as well as his band Loose Cattle.